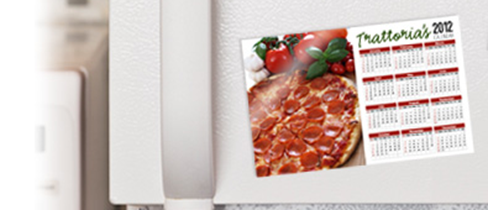 Looking for a super-cheap way to get your brand in front of customers 365 days a year? Try printing calendar magnets. The following details why calendar magnets are perfect for year-round marketing.
1.  Calendar magnets add value
Calendar magnets are useful to your customers, so they actually use them. Even better, calendar magnets are most often placed on refrigerators, so your customers are exposed to your brand every time they want a ham and cheese or a glass of milk. The best calendar magnets also include an image, illustration, sports team schedule, service listing, or menu that has relevance and benefit to customers. When you can print a marketing tool customers actually want to look at, you're on to a veritable profit gold mine.
2.  Calendar magnets are cheap to print
You can print 1,000 business card-sized calendar magnets for less than $200, 1,000 postcard-sized calendar magnets for less than $400. That's about 14 cents and 29 cents per customer, respectively. Once you add in the fact that calendar magnets are used daily year-round, your price to get your brand in front of each customer, per-customer, per-day, is less than half a penny per day.
3.  Calendar magnets have brand power
One of the keys to a powerful brand image is repetition. The fact that calendar magnets are noticed on a daily basis means you can increase brand recognition exponentially. Calendar magnets aren't just another form of marketing; they're part of customers' homes and lives. With targeted calendar magnet distribution, your brand will be, too.
4.  Calendar magnets can direct market
Most often heralded as branding tools, calendar magnets can also be used for direct marketing. Simply highlight dates on your calendar as special sales days, and you can boost profits year-round.