One of my good friends visited over the holidays, and we reflected on family life and our respective businesses – I, a writer; he, a plastic surgeon.  As a matter of course, we exchanged business cards, and I must admit I was struck at how professional his card looked, and at how well it matched his brand.  He designed the card himself, and though the layout was well-done and his logo, name, and contact information were prominent, they weren't what made his card more compelling than any number of exceptional business card designs I've seen.  What set his business card apart was a die cut.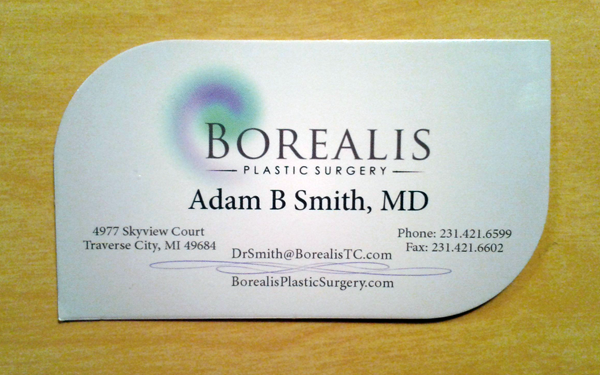 Business card by Adam B Smith, MD, of Borealis Plastic Surgery
The die cut featured rounded corners on the upper left and bottom right, lending his business card an air of elegance, precision and beauty – in short, everything you'd want from a plastic surgeon.  I got to thinking about how a business card is more than a moniker with contact information, but a direct extension of one's expertise and persona.  A compelling business card presages the customer experience. Consider your business card.  Does it incorporate a die cut?  If not, consider how a die cut might make your business card, and therefore your business, more attractive to prospective customers.  Avoid the urge to pick a die cut willy nilly, because "it looks cool."  Rather, carefully select a die cut that enhances your brand image and suggests the fulfillment of customer expectations. Employing a die-cut business card as part of your strategic marketing and networking practices is especially pertinent to small businesses, which are challenged by the need to differentiate themselves from competitors against limited budgets.  Die-cut business cards represent a minimal investment that can have a huge impact on potential customers.  The question isn't whether you should print die-cut business cards, but which die-cut shape best matches your brand and will help you achieve your sales goals.