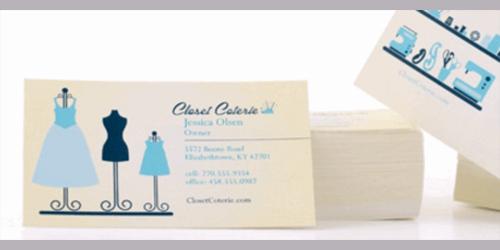 You know your business card design plays a major role in how your brand is perceived, but did you know your choice of business card paper stock also influences perception of you and your company? Businesses that want to promote an elegant, sophisticated brand image should take note, especially since there's an easy way to do it: print elegant business cards on linen paper.
Why print business cards on linen paper? This type of paper stock naturally lends itself to elegance and sophistication. Consider the following:
Linen paper stock features either a smooth or textured surface that's appealing when held in the hands. That tactile quality helps your brand stand out against a sea of competitors

Linen paper stock is thick, too. Printed on 100-lb. paper stock, linen business cards can help establish brand authority and gain customer trust

Linen paper stock is eco-friendly. It's comprised of 30 percent post-consumer waste, so you can print elegant business cards while staying true to your green agenda
You have two options when it comes to choosing linen paper for your color business cards:
Brilliant white linen paper, which is a textured linen stock with a clean, crisp and classic look that's an excellent choice for full-color designers

Natural white linen paper, which features a smooth texture and is perfect for printing solid-colored, sophisticated, high-end designs
If you want your business to be successful, you should always be on the lookout to differentiate your brand, stand out from competitors, and influence customer purchasing decisions. Linen business cards are perfect for accomplishing all three goals for minimal investment. They're great for sophisticated businesses, wedding-related businesses, caterers, brands built on tradition, and any company that wants to promote an elegant image.
Ready to print linen business cards to gain an edge in your industry? Get them for less with discount printing.