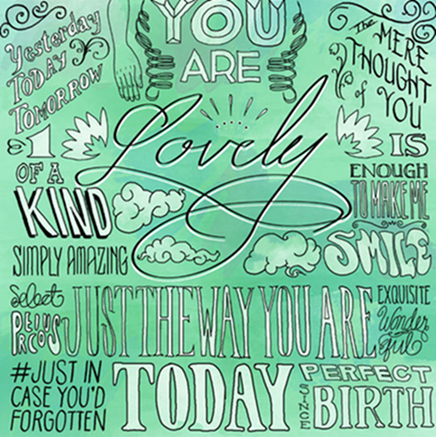 If you love to craft beautiful illustrations, whether by hand or with design software, you can print your own illustrated Valentine's Day cards to send to loved ones, to send to clients, or even to sell online or via retail shops. The following details step-by-step instructions on how to print your own illustrated Valentine's Day cards.
STEP 1:  Create your illustration
Start by creating your Valentine's Day card illustration. You can draw your illustration by hand and scan it to your computer, or you can use design software to make your illustration. Be sure the size of your illustration matches the printed size of your greeting cards.
STEP 2:  Get a free greeting card template
Download a free greeting card layout template from PsPrint. These templates contain no design elements; instead, they have helpful guidelines for positioning your illustration for greeting card printing. They're also preformatted in the proper size, color mode, and resolution so you can quickly create a print-ready file. Here's how to use your template:
Open your greeting card template in your preferred graphic design software
Place your illustration as a new layer on the template and make sure it aligns with the provided guides
Delete the template layer and save your file
Alternatively, you can upload your Valentein's Day greeting card illustration to the PsPrint Design Library, which will walk you through the entire layout and printing process.
STEP 3:  Print your illustrated Valentine's Day cards
With your illustration captured in a print-ready file, you're almost ready to go to print – but first you have to make a few decisions:
Paper stock – choose between glossy, velvet, and recycled matte greeting cards
Folding and scoring – do you want your Valentine's Day greeting cards to be pre-folded or scored?
Envelopes – print a matching envelope (and even custom return address labels and envelope seals)
You'll also choose how many to print, whether to receive a digital or hardcopy proof, production turnaround time, and shipping options. Once you've selected all options and checked out, your greeting cards will be printed and delivered to the address you provide. Turning your illustrations into custom Valentine's Day greeting cards is a great way to send special sentiments to your loved ones. If you run a business, you can also send illustrated Valentine's Day greeting cards that include your logo and other branding. If you want to print greeting cards to sell to retail shops, you can take orders for your designs and just order the quantity you need. Finally, you can also sell your designs directly online – simply list your designs for sale and print each order as it comes in. You can have boxes shipped "blind," where your printing company ships directly to your buyer and it appears as though they were shipped from you. If you sign up for PsPrint's Reseller Program, you can save money on printing and earn greater profits for your Valentine's Day cards.