If you operate a small business chances are you compete with other, similar small businesses for customers.  One of the things I've noticed about competing small businesses is that they often print bland marketing materials.  This strikes me as odd for three reasons:
You need to do everything you can to differentiate yourself from competitors.
Contemporary technology makes it easy to create stunning designs on a budget.
Contemporary printing technology makes it affordable to print unique marketing materials.
With this in mind, there's no excuse for taking a little extra effort to make sure your marketing materials stand apart from the competition and make your company more desirable to customers.  The following five printing tricks are all easy to implement and can help you land more customers with less effort.
1.  Die Cuts
Print die-cut marketing materials to make your business stand out.  Die-cut business cards, flyers, and other marketing materials get noticed and make your company seem contemporary, cutting edge, successful, and trustworthy.  Die cuts make you appear more professional.  You don't have to create your own special die cut, select a die-cut template from PsPrint's gallery for a fast, easy and affordable way to give your company a premium edge.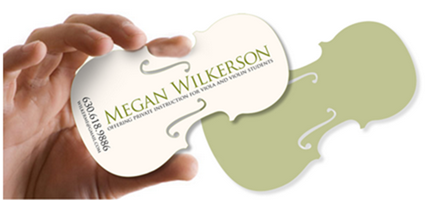 Die-cut business card by David Prahl
2.  Foil Stamps
Foil stamps add elegance, brilliance and excitement to your marketing materials.  Foil stamped lettering, backgrounds, lines and other graphic elements make your company appear more prestigious, and they're practically impossible not to notice.
3.  Go Big
When it comes to marketing, size definitely  matters.  Why do you think newspapers charge by the column-inch?  Print large-format vinyl banners, super-size your postcards and flyers, and consider large poster printing.  All of these will get you noticed; none of them will break the bank.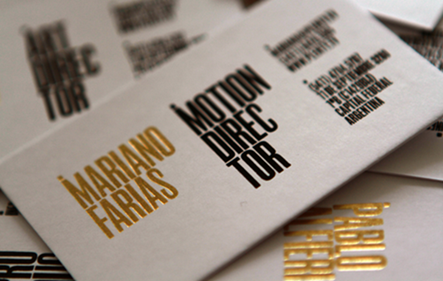 Foil stamp business card by Pablo Alfieri
4.  Add Value
Want to put your company in front of customers every time they get a glass of milk?  Print magnets that have value.  Place calendars, sports schedules, emergency numbers, and other useful information on your magnets, and customers will find value in them.  Since they're so convenient, your customers will use them, and they will notice you.  Since they're cheap to print, you stand a great chance of earning an excellent return on investment.
5.  Premium Paper Stock
Print your marketing materials on premium paper stock, whether a thick gloss, a rich matte or a textured white wove, to lend the impression that your company is solid.  Premium paper stocks make your design more brilliant, they feel good in customers' hands, and they help you differentiate yourself from the competition and land more sales.