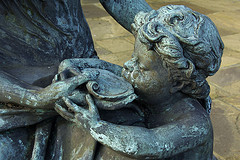 My hometown is all about high school sports. The entire community rallies around the local teams, so business is booming for the screen printing T-shirt and accessory shops. Half a dozen of these stores compete for business in a small town, and none has been able to get a leg up on the competition because they all offer the same thing.
You want to know how I'd do it? I would donate a percentage of sales to the high school athletic department. In return, I would ask the high school to distribute catalogs and order forms to their students to take home to their parents. I would highlight the fact that by purchasing from me, you can also help the student athletes purchase uniforms and equipment. Do you think my sales would increase? You betcha – people DO care, especially in close-knit communities (which can be in rural Midwest or Manhattan).
When the competition copied my idea (because they would), I would take my pitch a step farther: I would hold a competition for art students to create the next T-shirt design. The winner would receive a scholarship, and I would push a heavy PR campaign around the event to get press from local newspapers and radio and television stations. How about that for some branding?
Donating can get you free press, free marketing and boost your sales. You can increase your credibility and still give back to your community. Charitable contributions can further not only an organization's cause, it can do wonders for YOUR cause.
Image use CC License Flicker.