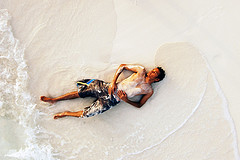 Ever play with a remote control car that's low on batteries? It will still go, but it takes a long time to get there. Work is the same way — if you're low on juice, your performance will suffer.
That's why taking some downtime to recharge is better than plowing through the pile. When you recharge, you're able to output better work more efficiently.
Downtime does not mean kicking your feet up at the conference table or snagging a mid-day siesta on your bosses' dollar. Downtime means taking real time off — away from work. It could be anything else. For me, downtime could mean taking in a blues festival or a trip to a historical home. The truth is I'm usually not so cultured, and so I often spend my downtime hiking through the woods with the kids before watching my Cleveland Browns lose yet another heartbreaker. C'est la vie!
No matter how I spend my downtime, I tend to forget about work for a day or two and always find that when I return, inspiration and energy are there waiting for me. Doing the things I enjoy with the people I love also reminds me what is truly important in life, making work seem trivial. I think it is this phenomenon that fuels inspiration. After all, a recharging battery is not without energy — it's constantly bombarded by it.
How do you recharge?
Image CC License Flickr.