I love before and after makeover photos. Not the kind you see on TV where they grab some random disheveled individual and run them through the gauntlet of tweaks, pulls, snips and colorations. I'm talking about brand redesign, perhaps the most challenging yet satisfying task ever handed to a designer.
You are chosen to take an established brand and make it better than ever through imagery. Certainly, much of brand redesign has to do with updates to modern trends and employing contemporary techniques – but that doesn't mean designers don't relish in the opportunity to best the competition with a fresh look. Here are five of my favorite brand redesigns. As you'll see, I'm partial to brand redesigns that redefine what a brand stands for because it represents maturation – where the brand has taken a life of its own. The brand defined itself and needs a new look to match. What are your favorites?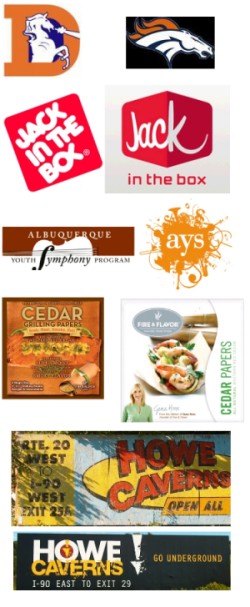 Denver Broncos The old Denver Bronco logo had been a staple in the Mile High City for decades before the club decided it wanted a fresh look. For my part, I can't tell whether the horse in the old logo is sneezing or smoking a cigarette through its nostril; so I think the new look is much more menacing yet majestic. Jack in the Box This one's still open for debate, and yes, people are debating whether the new Jack in the Box look is an improvement or whether it risks identity recognition. Opinions differ so much that one blog I read declared the new design "retro" while another claimed it was "contemporary." Eye of the beholder, for sure, and I think that the Jack in the Box logo is a step forward for a company too long associated with a kid-oriented menu. This is Jack's move down the path of McDonald's – fewer childish antics, more working class (paying) adults. Who can argue with that? Albuquerque Youth Symphony Gone are the days of boring music lessons. The new AYS brand promises an incredibly fun and "Rach-able" experience that just might actually interest kids in the finer arts. Fire & Flavor The logo alone does not do justice to convey the impact of this brand swap. It seems the brand has gone from a smokehouse to an elegant gourmet, and the difference is striking. My guess is that the company evaluated who its best customers are, then made the change to accommodate them. Good move. Howe Caverns My favorite on this list is Howe Caverns, which has taken advantage of the power of brand design to go from a roadside curiosity to a mainstream tourist attraction. Click this link to see some creative deployment strategy in action.