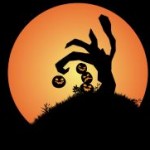 Though many publications are reporting horrid tales of Halloween sales figures dropping by 15 percent or more in 2009 (at least one reporter referred to Halloween as the last victim of the recession), they're overlooking the fact that it is still a $437 billion industry. This is a slump, sure, but it is a universal trend so the Halloween niche as a whole is still healthy.
If you told me that every other product genre was selling incredibly well and Halloween was sliding, I'd be concerned. But the holiday's investment-return potential remains very viable, and the topic is being beaten to death by short-sighted journalists who believe that all industries overspend revenue (ahem ... certain auto manufacturers). Many Halloween-oriented businesses are responsible and were prepared for the slump, and these figures do not reveal the bottom line: What is the profit margin versus last year? If Americans are skipping some of the Halloween expenses then it's likely that manufacturers, distributors, and retailers are finding ways to slash unnecessary expenses as well. My thoughts? Halloween is a fantastic season for marketing, even in a downtrodden economy, as the following Halloween facts for marketers attest: The National Retail Foundation expects Halloween sales to eclipse the $437 BILLION mark in 2009. The average person spends more than $65 on Halloween (that is expected to drop to about $55 this year). Broken down, that's about:
$24 each for costumes
More than $18 for decorations
More than $20 for candy
Almost $4 for greeting cards
I'm also appalled that every article I've seen jumps to the conclusion that the reason consumers are spending less on Halloween is because they're buying less candy (or not handing candy out) and making their own Halloween costumes. I'll grant that these things are true; however, are they true only because money is tight for consumers, or because it is also tight for businesses who are not spending the money to market their Halloween products? If you have a great Halloween costume sale but do not print and mail a catalog (or at least a postcard) to me, how can you expect me to buy a costume from you? Part of the blame for the projected Halloween sales slump lands squarely on the shoulders of businesses that wish to profit from the holiday but are afraid to make the investment to push their products. Would you say a $437 billion industry is weak? I'd say it's a window of opportunity.