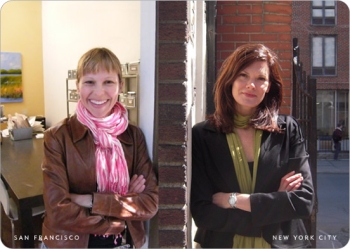 Once a month, PsPrint asks a creative business owner or graphic designer to share his or her tips and techniques. This month, we interviewed Lesley Hathaway, a partner at A DAY IN MAY, a design studio that specializes in wedding invitations.
Your company, A DAY IN MAY, specializes in unique wedding invitations. In light of the fact that wedding invitation design requests are so numerous, how do you go about creating designs that are special and creatively unique for each client?
Because we are first and foremost a graphic design studio we tend to attract clients looking for highly creative pieces that either tell the couple's story (e.g. how they met, where they've traveled thus far, special interests they share, etc) or that focus on the wedding destination. We love to weave in special pieces that mean something to the client. For instance, we had one couple bring a pillow into our studio and we ended up recreating the pattern on that pillow throughout their wedding invitation booklet. We regularly design custom "logos" for weddings, wine labels as wedding invitations, jam jar labels for favors, etc. Whatever the case may be, we love to weave the couple's personal story and lifestyle in with our sophisticated designs and lush letterpress printing.
What is the most important thing you need to know about each couple before you start crafting their wedding invitation?
It really depends on the couple. We begin each meeting (whether via phone or in person - we have clients all over the States and beyond) by asking them what they are planning for their special day. We inquire as to why they've selected their venue, what colors will be represented on their wedding day and their overall design style (modern vs. traditional). A natural brainstorming dialog ensues from there and normally by the end of that first conversation we have established a loose design architecture for their pieces.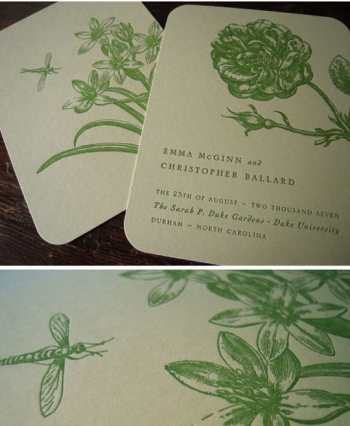 What printing techniques do you employ to enhance your wedding invitation designs on paper?
We focus mostly on letterpress printing, which is our favorite; however, recently we've begun digitally printing as well, which is a less expensive option for our clients. Eve and I held off for months on offering digital because we were unhappy with the initial results. We wanted to make sure that if we provided digital printing it would be something that would excite our clients just as much as our letterpress printing does. We were thrilled when we finally solved the problem. We figured out that the digital printing wasn't the issue, it was the paper. Digital printing is offered by most places on lower-grade paper and we realized that if we replaced the standard digital paper with our lush cotton paper it printed beautifully and was the level of quality that people have come to expect from A DAY IN MAY.

You and your design partner, Eve, live and work nearly 3,000 miles apart. What challenges do you face when coordinating projects long distance, and how do you overcome them?
Eve and I have worked together for nine years now and we spent many of those years working side by side in San Francisco. We only launched A DAY IN MAY NYC in 2009. At this point Eve and I can pretty much finish each other's sentences, and there is complete trust and creative freedom between us. When a project begins, one of us is assigned as the point person so the client interaction is streamlined; however, behind the scenes Eve and I regularly e-mail designs to each other for creative feedback, we discuss estimates on the phone, we brainstorm design concepts together, etc. I also fly out to San Francisco regularly so we stay in tune with each other. I'm not sure how well this would have worked a few years ago, but today Eve and I are just a text, e-mail, call or iChat away.
What is the best business or design advice you ever received, who gave it, and how has it helped you?
I'm having trouble remembering one specific piece of advice that I received over the years, but I can tell you what's served Eve and I well throughout our time running A DAY IN MAY. Creative folks tend to be uncomfortable early in their careers discussing budgets with clients, but it's crucial if you want your business to be a success. Eve and I always clearly define the full scope of each new project and deliver an itemized budget at the onset. Graphic designers should never feel uncomfortable talking about money or getting paid for what they do. Each final piece delivered to the client (whether a website design, logo design, wedding invitation, etc.) is a beautiful work that's representative of their time, creativity and client management and is therefore valuable.
For more information about A Day in May, you can check out their blog.