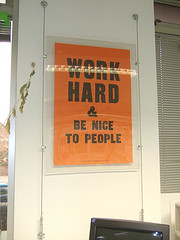 Productivity software is generally described as software that makes businesses (or people) more productive. Simple and self-explanatory. But each niche profession (or personality) has a unique set of tasks that productivity software can automate or otherwise make more efficient.
For graphic designers, programs such as Adobe's Suite (Photoshop, Illustrator, Fireworks, Flash), QuarkXPress, and MS Virtual Basic would all be considered productivity software. But what about the simple, time-intensive tasks graphic designers tediously undertake? Things such as identifying a font, changing a CSS style, or choosing a complimentary color can take hours away from more "important" tasks such as creating your designs and choosing imagery. The creative can be stifled by the banal. Some of my favorite productivity software for graphic designers include:
FileZilla — An FTP application that lets you instantly edit server-side files. This comes in handy when you need to make a simple CSS change or swap a banner image.
7-ZIP — Lets you compile, compress, and unpack a myriad of file types that the built-in Windows application can't. If you work with large file transfers, Z-ZIP and FileZilla are necessities.
IdentifFont — Identify a font by name, style or by answering a series of quick questions.
Open Source CMS systems — Content Management Systems, once put in place, save time and money. When you need to make a portfolio update, you simply fill out a form and upload your file. If you want to change content, add products or do anything else in a flash, there's probably a CMS that facilitates the action. Learn to design and find a good developer (if you don't code) for systems such as Wordpress, Joomla! and Drupal. Content is still king, and Open Source CMS is here to stay.
Color scheme generators/color wheels — Here's a great list of 25 color scheme generators.
Whatsitscolor.com — Upload an image or submit a link to an image and Whatsistscolor generates a color scheme based on the colors in the image. This is valuable if you like the look of a website, brochure or postcard and want to emulate its color scheme. Color Hunter does the same, perhaps slightly cleaner.
Don't forget that Photoshop, Illustrator, Flash, Quark and other software have add-ons, plug-ins, actions and a whole host of other time-saving devices available for free download. Of course, software suites such as Microsoft Office and OpenOffice deserve a mention, as well as the many commercial project management applications. For free and simple project tracking, check out FreeMind.
Image CC License Flickr.