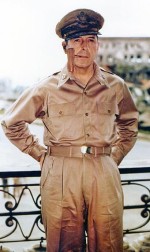 "You are remembered for the rules you break." - General Douglas MacArthur Ask any mega-entrepreneur – Gates, Ford, Jobs, Trump, McMahon – what the ingredients to success are and they'll all agree on at least one thing: You have to take risks. Break the rules, because they're made to be broken. Anyone can follow the path to modest success, but it takes a revolutionist to eclipse even the most astute business people and change the world forever.
Certainly none of this is news to you. You undoubtedly know that taking risks can yield enormous gain. But does the fear of failure keep you from realizing your potential? While rebranding a corporate identity might not carry the far-reaching risks of orchestrating Operation Cartwheel, it is something that can make or break a designer's career. When it comes to taking risks in graphic design, there are two fears: 1) that an idea will be deemed inadequate and will fail at the drawing board; and 2) that an idea will be deemed incredible and will fail in practice. The latter is worse, because few will remember when a designer's ideas have been tossed before money has been invested. A failed public campaign backed by tens of thousands or even millions of dollars will resonate for years – even decades. Despite these fears, every designer has faced the situation when a client wants something done one way yet believes it will work better another way. You don't want to anger your clients by wasting time on designs they do not want, but you want to make a name for yourself by designing the image that carries the brand for the next decade – the next century. You can negate these fears with a simple approach to taking intelligent risks:
What are the pros and cons? List these, from the likely to the extreme. Ask yourself what will happen if you submit your design to your client and they hate it. What will happen if they love it but the public hates it? What will happen if everyone loves it?
Is it worth it? Compare your lists and determine whether the risk outweighs the potential benefits, and vice versa. If it's truly revolutionary, it will be worth it – and it will be risky. Prepare for the shock.
Do it free of charge. If you have a truly revolutionary idea but are afraid your clients will be angry that you've spent man-hours on a design they didn't ask for, complete the design they want and then do yours as a bonus. Make sure you point out that you devoted the utmost consideration to their concept before you created yours and just wanted to present it as an option. If you feel strongly about it, back up your statements with supporting evidence.
Do as little as possible. If you can effectively convey your design with a sketch instead of a full-blown vector, by all means save the time, effort and money. If they want to see more, they'll have to pay you to fully develop the idea.
Beta test. If your clients like the design but are hesitant to take the risk on it, see if they will be willing to beta test it against the other concept with small, targeted focus groups.
If it bombs, don't be resentful. It might be right for you, but not for your client. Save it for the next opportunity. Ask your clients what it is about your idea that they don't like, and see what you can do to refine it so it works this time or next.
"I don't like to fail. I hate to fail. But I'm not afraid of it." - WWE Founder Vince McMahon Image use from Wikipedia, http://en.wikipedia.org/wiki/File:MacArthur_Manila.jpg