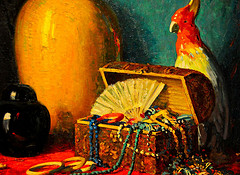 I always tell clients who depend on print marketing for sales success that they should maximize their dollars by printing smart and for repetition. Three postcards sent to 1,000 people will always perform better than one postcard sent to 3,000 people, assuming your mailing list is spot-on.
Print marketing is an investment with an expected return. It should not be confused with an expense; however, that doesn't mean that you shouldn't pay attention to your marketing strategy and squeeze the most return on investment out of each buck. The quality of your printed pieces must be superior in order to achieve the highest return, so it doesn't pay to skimp on materials.
So how can you strike a balance between quantity and budget without sacrificing quality? With these creative ways to save on printing costs.

Put it on a postcard: Invitations, brochures and newsletters can all be reduced to fit on a postcard, which is perhaps the most effective form of direct-mail marketing. Quality postcards are cheaper to print and send than traditionally printed invitations, brochures and newsletters and are just as (if not more) powerful than these mediums for generating response. Think about it: When you send invitation postcards to your customers, they don't even have to open an envelope to get right to the meat of your pitch.

Print mini-catalogs: Some retail companies would like to print their entire inventory out in a full-sized color catalog, yet do not have the budget to do so. Instead, print mini-catalogs that showcase a few of your best-selling products and highlight the URL to your online shopping cart, where customers can browse your entire collection. You can track your campaign by using a unique coupon code. Print mini-catalogs from brochures, sales sheets, booklets, flyers and even postcards to save money so you can afford repetition.
Place coupons on everything: If you print branded materials such as calendars, notepads, letterhead and envelopes, don't waste valuable real estate by sending them without a pitch. Each calendar month should have special promotions and/or discount codes; each notepad should qualify as a discount coupon; your letterhead can include a special offer on the bottom; and your envelopes can promote your business at a glance. If your brand is going to be out there anyway, it makes sense to give customers an extra incentive to take action.
Organize a flyer day: If printing sounds like a great idea but the cost of postage has you bummed, you can instead print flyers or door hangers and enlist friends and employees to help you hit the streets and distribute them yourself. You might even be able to get some free press if you take the angle that hoofing it is part of your company's eco-friendly green or employee health agendas.
Image use Creative Commons license via Flickr.