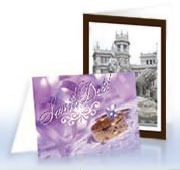 Ever wander through the local gift shop in search of the elusive Perfect Greeting Card? If you're anything like me, you can never find what you're looking for and often think you'd field a better selection of greeting cards if you were in charge of production.
Guess what? You can use your graphic design skills to make money full-time or on the side by selling your own greeting cards. You've probably seen websites that promise to market your designs and handle the greeting card printing services. Such sites are great for pocket change, but if you want to make real bread you've got to knead the dough yourself. Running your own greeting card business is easier than it sounds when you follow three simple steps: 1. Design to a niche. In today's economic climate, it seems anything can happen. Still, I think it's a safe bet that you're not going to enter the greeting card market tomorrow and take down Hallmark on Friday. Thus, you have to find your own little niche where Hallmark is lacking. Instead of creating greeting card designs for every single category, draw greeting cards that focus on a specific type of customer. You could be humorous, thoughtful, poignant or event-oriented; you could sell greeting cards for motorcyclists; or sell greeting cards under the "Funny Birthday Card" category. Don't worry about limiting future success – as your company grows you can add different divisions (think Shoebox Greetings as a division of Hallmark). 2. Choose the right greeting card printing company. Superb greeting card printing services are crucial to your success. Your greeting card designs should pop with brilliance on professional-grade greeting card paper. You also want greeting card printing services that can do both large runs and short runs so you can start small and build an empire. 3. Sell your greeting cards! As a lone entrepreneur, success will come in small doses. Be encouraged because there are many venues for selling your greeting cards, including:
on your website
at gift shops (print enough greeting cards to full up a rack, and see if you can sell your greeting cards on consignment if you can't entice the owners to buy wholesale)
grocery stores
mail-order catalog
business-to-business (to send to customers)
at trade shows
Keep at it – the greeting card industry can be tough to track, but if you're talented and dedicated you could build the next American Greetings!