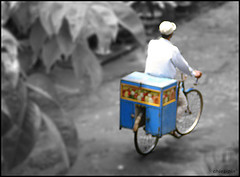 Want to know what's wrong with your marketing strategy? I'll tell you. You're waiting for customers to discover you. Big problem.
OK, so perhaps you're pushing search engine optimization or investing in pay-per-click ads. Maybe you're writing articles or posting on forums. That's a good start. You're getting customers and making sales. These things are necessary, yet they rely on your customers to actively seek you out before they find you.
Isn't that what niche marketing is all about? Being found by active searchers yields a higher conversion rate, right? Yes, of course. These strategies make it easier for your customers to find you, definitely.
But why are they looking for you in the first place? Are you getting clicks because potential customers liked your ad while they read someone's blog, or as a second-thought alternative to the company they're really going to buy from? Or, are you getting clicks because people have heard about you and your ad reminds them that they want to check you out?
It's the chicken and the egg conundrum — what comes first: marketing hype or people hype? Or more importantly, which is more valuable? The answer is people hype, because word of mouth spreads fast and people take other people's recommendations.
So while you're working on your next PPC ad campaign or researching your next SEO keyword, you should consider these components as flags to help your customers find you, and not as motivators for the search itself. Stop waiting to be discovered and market already!
The fastest way to get mass people hype is to go to the sources people trust. Write (or hire a writer) a press release and submit it to the appropriate news outlets. Call or e-mail journalists and bloggers who cover your niche market and relate an interesting angle to your story. If you think a celebrity might be interested in your service, product or (especially) cause, contact them. Partner with organizations to donate a portion of profits in return for a bit of free advertising. Host free seminars — online or off — and use the press to help market them. Build relationships with key people. If you can help them with insight into your industry, they might help you by running a story or dropping a line. It's not as hard as you might think.
The point is that you shouldn't just sit and wait for your customers to come searching for you. You have to give them a reason to be looking for you first.
Image use CC License Flickr.