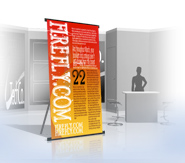 You have business cards. You have a brochure. Maybe you've sent postcards, or even have a complete press kit. So ... you're just like everyone else.
You should have these things, yes, but if you really want to stand out you should also have:
Vinyl banners – Considering how inexpensive vinyl banner printing has become, I find it unfathomable that so many businesses don't have a few of them printed when opportunity knocks. Perhaps an acquaintance owns a building you can hang it on, or you can get a cheap event sponsorship, or you can just place it on someone's yard near a high-traffic area.
B2B door hangers – A lot of businesses employ door hangers, mostly for residential use. If you're a B2B business (like most graphic designers are), then you can distribute door hangers with incredible efficiency. And because it's out of the norm, you will get noticed. Kudos – this is the type of creativity your customers want from you!
Stickers – You can place stickers ANYWHERE, so why don't you? Few, if any, marketing mediums allow for such creative placement as stickers. From telephone poles to the ceilings above dentist chairs, stickers can do it all. Plus, they're really, really cheap to print.
Everyone expects you to have a business card, and so it is not important. It does not set you apart. It is necessary, yes, but it will not help you make your mark. A well-placed sticker, an unexpected flyer or a unique vinyl banner will all help you earn a memorable spot in your customers' minds. Brand and conquer!