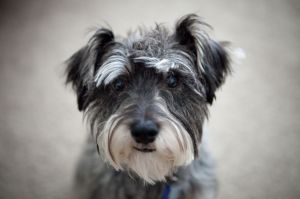 My family has a dog, a haphazard mix of breeds that is unidentifiable to even our veterinarian. Whatever she is, Ruby has been a good dog and her affection for our children is unmistakable.
Still, the mutt utterly annoys me at times, especially when she barks at nothing. However, during a recent vacation, my observations of Ruby's behavior have led me to believe that dogs can teach us a lot about business.
I've noticed that every time a stranger comes to the door, Ruby is front and center until I arrive. Then, she retreats slightly to the front of my oldest son - she is loyal even in her fear. Business loyalties are the same way. It's easy to be loyal until you're afraid, so to be a good person means to be loyal even in fear.
Ruby used to tear around the house while we were away and rip into things such as stuffed animals and furniture. As one can imagine, this made me furious to the point where I considered getting rid of the beast. My son, then 3 years old, did his best to assure me that Ruby would come around. And she did. I've found two nuggets in this lesson: 1) even bad employees can be guided to be good employees; and 2) we should listen to our younger, inexperienced co-workers. They might just be right.
Ruby loves to play fetch. She doesn't mind at all that each toss has the same end result. She retrieves it and runs back to us, and we take it from her and throw it again. Ruby seems to understand - to appreciate - that this is part of life. She likes where she is and has no intention of going anywhere. Ruby is content chasing her tail. Perhaps when we feel like we're chasing our tails, it is because we like where we are and do not really want to advance.
And yes, Ruby continues to bark at nothing from time to time; but now I've realized that Ruby isn't barking at nothing - she's barking at something I can't perceive. Though I am (arguably) more intellectually advanced than Ruby, she has a skill that I can't possibly touch. I should listen to her - maybe the something she hears is actually a threat. Maybe she scares it away when she barks. I'll never know, but I do know that it's important to listen to others even if you believe you are more intelligent. They might be able to see or do something you cannot.
Last but not least (and I really tried to avoid the clichés such as "let sleeping dogs lie"), Ruby enjoys her rewards unabashedly. When she is given a treat, she relishes every nibble. At the end of the day, Ruby lays in her little doggy bed, happy to be alive and ready for a good night's rest before she begins another day. If only the rest of us could be so content and sleep so easily ...