From the Economics section of About.com: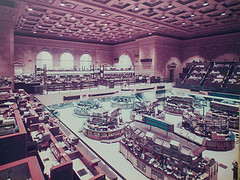 Investors are attracted to stocks of companies they expect will earn substantial profits in the future; because many people wish to buy stocks of such companies, prices of these stocks tend to rise.
On the other hand, investors are reluctant to purchase stocks of companies that face bleak earnings prospects; because fewer people wish to buy and more wish to sell these stocks, prices fall. The people who hire freelance graphic designers, writers, developers and marketers are all investors. You are stock. If your investors believe your contributions can help increase their wealth, then your own stock — or fees — can rise. If your investors do not believe in your work, they will not be willing to invest much in you. Add value by treating your clients' materials as you would your own. Not only are they investors in you, you are investors in them. Your success is contingent on their success. Tell me, what's YOUR stock worth? Image CC license Flickr.