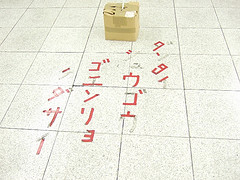 Everyone loves a list such as "101 places to get free fonts," but who actually has the time to click through and research all 101 websites? Seems like a lazy way to do things to me – so instead of listing every single font website I can find, I'll list eight places to get really, really, really great fonts free of charge. I've done my research so you don't have to. Enjoy!
1,001FreeFonts.com – The names says it all! Lets you dynamically see your text in their fonts before you download.
dafont.com – Fonts organized by categories such as Halloween, Christmas, Script, Gothic, Fancy and more.
UrbanFonts.com – Enough free fonts to outweigh the number of paid fonts.
SimplytheBest.net – An incredible array of free fonts at your fingertips.
SearchFreeFonts.com – Hundreds of free fonts you can find through search, category and alphabetical order. If you can't find it here, you probably can't find it.
SmashingMagazine.com – Bookmark this one: If you're after that just-so Web 2.0 nuance, Smashing Magazine delivers again with some very contemporary, excruciatingly styling free fonts.
ReFont.com – A great place to find free Photoshop fonts.
WebDesignDev.com – These guys put together a good list of hand-drawn fonts, so why re-list them here when I can just link to it?
Send me your favorite places to get free fonts, and I'll compile them for a part two if they make the cut!
Image use Creative Commons via Flickr.