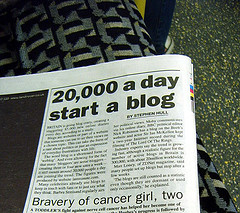 I've heard it time and again: "Brian, I blog three or four times a week but I don't get any traffic." If this describes you, chances are that you're missing one of the three major components of blog success:
targeting, networking or interesting.
Targeting means you target your blog posts and titles for keyword-related searches, so you're more easily found. Networking means not only submitting to social networking websites, but actively networking with other bloggers who can help direct traffic to you. Interesting simply means writing something people want to read, and is perhaps the most important part of the blog success equation.
But being interesting is not always simple. That's why I've put together a list of the top 10 resources for blog topic inspiration:
Chris Brogan's blog — Chris knows what he's talking about. The only unfortunate thing is that every idea on his list has been used time and again, so use it as a source of inspiration and not as a list of your own blog topics.
Start Blogging Online has ideas that will help you formulate blog topics relevant to your readers.
About.com always seems to have solid ideas, if not niche-related. You can use these broad suggestions to craft on-target posts for your readers.
Digg, Stumble and all other social networking sites provide plenty of ammo for your blog posts. You can see what others are writing and — more importantly — what is being responded to develop winning blog posts.
Press release distribution websites such as PRWeb and PRNewswire let you publish newsworthy blogs before they even get to press.
Google News Alerts is the lazy blogger's paradise. Simply input your keyword alerts, and you'll get instant e-mail updates on your topics. Simply browse your e-mail, pick a story and blog on!
The Wikipedia post on writer's block includes suggestions for combating this common malady with ill-timed symptoms.
So does the Writer's Block/Writer's Anxiety page at the OWL at Purdue, which is an excellent resource for many other writing-related issues.
From the not-so-mainstream media — You can't miss current events on the nightly news, so investigate deeper into off-the-beaten-path topics, websites and news outlets to find new and invigorating ideas. Conspiracy theory, anyone?
Ask your readers. After all, they are who you are catering to!
What can you add to this list?
Image CC License Flickr.