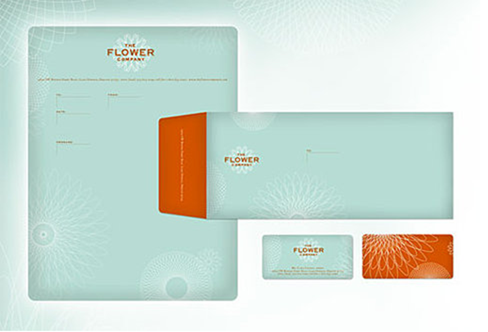 Image of letterhead for The Flower Company on Fffound!
If you're serious about your small business identity, then you know how important it is to print sales letters, memos and other communication on branded letterhead. Your letterhead has a major impact on customer perception; but if you're like many small businesses, you don't lend letterhead the significance it deserves. Great letterhead not only puts your company in a positive light, it stimulates customer emotion and motivates action. Modern design and printing technology makes it easy and affordable for every business to have professional letterhead, so if you're still printing bland letterhead with a black and white logo atop plain PC paper, it's time to rethink your strategy. The following tips will help you print letterhead that wins customers over.
1.  Letterhead Design
A clean, modern letterhead layout will lend an impression of confidence, power and cutting-edge services to your brand. Get creative – don't think of letterhead as a means to simply convey contact information. Instead, letterhead should differentiate your company.
Try using plenty of white space, starting your body copy farther down on the page, or using sidebars, headers and footers to creatively display information.  While your logo can be placed at the top of your letterhead, it can also be in the footer, sidebar or background.  And, by all means, incorporate color!
Want inspiration for stunning letterhead design?  Check out 83 Crazy/Beautiful Letterhead Designs and 65 Smashing Letterhead Designs.
2.  Letterhead Paper Stock
Desktop printing has made it quick and easy to give your communications a professional look, right?  Wrong. While that might have been true 10 years ago, today everyone knows when you've simply printed your logo on cheap PC paper. Doing so gives your company and brand a cheap, unprofessional appearance. In contrast, printing on premium stationery paper stocks lends the impression that your business is professional, trustworthy, and successful, thus building customer confidence.  Opt for a textured 70 lb. white wove paper stock or a smooth, crisp 24 lb. synergy bond paper stock for your letterhead.
3.  Letterhead Printing
Printing letterhead on your desktop printer looks cheap, but professional letterhead printing is vibrant and professional. What's more, modern printing technology has made letterhead printing so affordable, it's a no-brainer. For example, you can print 5,000 sheets of letter head for around 8 cents per sheet – far less than the price of the stamp you'll use to send your sales letter!
4.  Contemporary Features
Companies used to be able to get away with letterhead that simply featured a company name, logo and contact information. You can still do that, but you're missing an opportunity to promote your company in other ways. Try including the following to make your letterhead more dynamic and interactive:
A special offer or coupon in the sidebar or header
Your company philosophy
A "did you know" box with interesting information about your company
A case study or customer showcase
Your social media (Facebook, Twitter, Pinterest) addresses
QR codes or augmented reality features for mobile marketing