Sending custom, personalized holiday cards to your customers is a great way to foster long-term relationships, express your appreciation, and ultimately boost sales. Even though holiday cards shouldn't be entirely promotional in nature, you should still adhere to marketing best practices by minimizing costs and maximizing your ROI. With PsPrint's holiday card printing discounts, you can save money by printing holiday cards now through the end of September.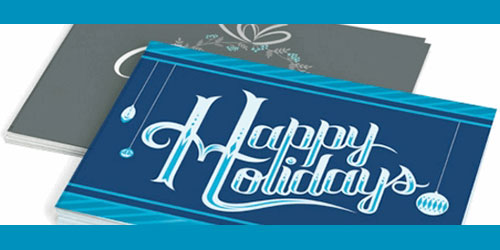 The value of a head start
You'll instantly save money by taking advantage of PsPrint's holiday card printing discounts, but the value of printing holiday cards in September extends beyond the initial savings.
Printing your holiday cards early:
Affords you the time to design custom holiday cards featuring your brand

Grants more time to personalize each holiday cards with a handwritten note for your best customers

Frees time later in the year to focus on other marketing initiatives
Print your custom holiday cards now, and you'll not only save money up-front – you'll create opportunities to make more money later.
Should you print folded or flat holiday cards?
Both folded and flat holiday cards are available at discounted printing prices, but which should you choose? Consider which type of card best represents your brand: if you're founded on tradition, a folded card placed in a matching envelope might be right for your company. If you're a cutting-edge firm, a flat holiday card that can be mailed like a postcard might be your best bet.
You can also give consideration to your overall investment: since flat holiday cards can be mailed like postcards, they have the lowest postage rates. Folded cards aren't much more, though, even when you include envelopes (though you will have to have envelopes printed). Another method for folded cards is to print custom branded seals to close the open side so they can also be mailed like postcards.
How to design custom holiday cards
You can download free holiday card templates from PsPrint and create your own custom design using your favorite graphic design software; or, you can hire a professional designer to create one for you. However, the most cost-effective option is to take advantage of PsPrint's free online holiday card design tool.
Simply select your favorite template from the holiday card gallery – each was created by a professional designer – then choose a color scheme that matches your brand. Open the template in the design tool to point-and-click your way through customizing the design, images, and text. Within minutes you can create a custom holiday card design that uniquely represents your brand, completely free!
The benefits of printing holiday cards early are clear, and PsPrint provides all the tools you need to design and print your own custom holiday cards. Get started now!