Have you ever wanted to self-publish a book? Perhaps you want to write a book about the history of your hometown, or a book featuring subject photography or other artwork. No matter what you want to write about, perfect bind booklets can help you bring your book to life. The following details how to self-publish a book with perfect bind booklets.
What are perfect bind booklets?
Don't let the "booklets" name fool you – all you have to do is take a look at your bookshelf or magazine rack to see what perfect bind booklets look like, as many books and high-end magazines are printed and bound the same way. Perfect bind booklets feature:
Strong adhesive binding with a smooth, flat spine with a professional finish
Your choice of two premium cover paper stocks, gloss and matte
Your choice of three premium interior paper stocks
Perfect bind booklets can be printed in two standard sizes with page counts ranging from 40 to 96 pages, and in quantities as low as 25 booklets. In short, perfect bind booklets are cost-effective and easy ways to print professional-looking self-published books on any topic you'd like. Now that you know what they are, here's how you can self-publish your book with perfect bind booklets.
Write your book
First things first: you need to write your book. That part is up to you, but as you plan your book keep the following in mind:
Perfect bind booklets can be printed in two standard sizes with page counts ranging from 40 to 96 pages (page counts increase by four pages), so you'll want to plan the length of your text accordingly
Images, illustrations, and other artwork can help you extend your total page count, if needed
Layout tricks can also be used to extend your page count – for example, paragraph spacing, headlines, and full-page images
It's better to have less text than too much text to leave room for visuals and aesthetically-pleasing layouts
Layout your book artwork
You'll need a compelling cover design; if you're not a graphic designer, you can hire a designer to create your cover design for you. In addition, you'll want your book to feature an aesthetically pleasing layout that incorporates easy-to-read fonts and visually defined sections. Download a free layout guideline template for your perfect bind booklets to make sure your layout is print-ready, and be sure to double-check our 20-point quality checklist to avoid potential issues and ensure your book looks as great in print as it does on your computer screen.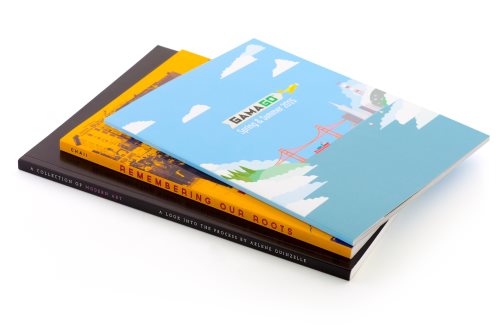 Print your book
Once your book is written and the layout is complete, all that's left to do is print your book. Choose your printing and paper stock options, turnaround time, and shipping speed, and your books will be printed and delivered to your door in just a few days. Perfect bind booklets are an affordable option for printing professionally-finished books you'll be proud to put on the market. Self-publish your book with perfect bind booklet printing today.