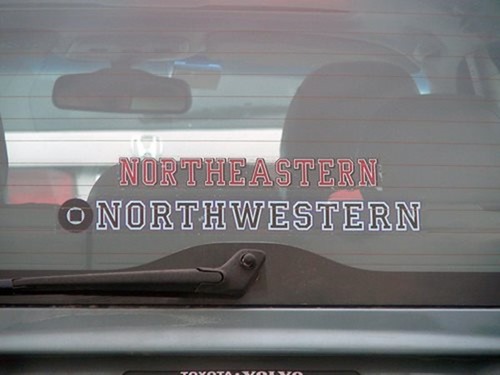 Want to tell the world how great your school is? One easy way is to send school pride stickers to your alumni. Whether you want to promote your high school or college academics, athletics, or brand, your alumni will be proud to display the following school pride stickers everywhere they go. The best part? You don't have to give stickers away: instead, sell them to alumni as part of your school's fundraising campaign. You can send direct-mail postcards, sales letters, emails, and even Facebook posts to your alumni asking them to order stickers to support their alma maters. Then, only print the number of stickers you've sold so you're sure to make money for your school while your alumni market it for free.
Bumper stickers
Bumper stickers are perfect school pride promoters. Send bumper stickers featuring your school logo, name, colors, and any other phrase or tagline you want to include to your alumni. Many of them will be happy to affix your bumper stickers to their vehicles, thereby showcasing your school wherever they go.
Window stickers and window clings
Print window stickers your alumni can place on windows in their homes and on their vehicles. Or, print window clings that can be repositioned as-needed and won't leave sticky residues when removed.
Sheet stickers and envelope seals
You can print sheet stickers alumni can use as envelope seals or simply to show off their alma maters wherever they see fit. Sheet stickers let you print multiple sticker designs on a single sheet, so you can highlight different aspects of your school without increasing your investment.
Return address labels
Let alumni show school pride with every piece of mail they send. Return address labels have extra value because they're so useful, which makes them perfect fundraisers for your school. Sell these stickers to alumni to raise funds for your school and simultaneously enjoy free marketing. Start planning your sticker fundraising campaign now!
---
For more marketing tips and ideas, check out our How To Jumpstart Your Marketing guide.