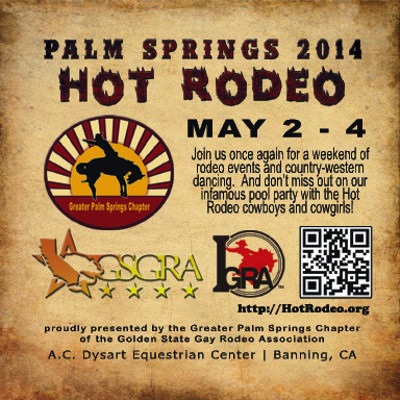 Back of business card for Palm Springs Hot Rodeo
Your business card is more than a simple leave-behind; it's a branding tool that enhances – or harms, if poorly-printed – the first impression you make on new contacts. That's why it's so important to design and print business cards that are unique and memorable. At the same time, you have to organize your business card layout according to expectations;  you don't want potential clients to struggle to find your phone number, for example. That makes unique business card design a challenge. Fortunately, you can lend more impact to your business cards and impress clients with a simple trick that boosts business card branding power: change its shape. The shape of your business card can express your brand's ideals; print uniquely-shaped business cards, and you'll differentiate your brand from competitors. The vast majority of business cards are printed in standard 3.5-inch by 2-inch rectangles. There's nothing wrong with that approach, but there's nothing special about it, either. If you want to make a more powerful brand impression, consider printing business cards in the following shapes:
Slim business cards
At 3.5 inches wide yet just one inch tall, slim business cards are perfect for modern companies that want to express their cutting-edge approach.
Mini-square business cards
These business cards are 2-inches by 2-inches, a size that lends itself to an understated brand that's unique in the market.
Jumbo-square business cards
Oversized 3.5-inch by 3.5-inch business cards, jumbo squares are best for big, bold brands that have a certain "attitude" to express.
Custom die-cut business cards
You can have your business cards die-cut into any shape you want, from standards such as circles and parallelograms to company-specific shapes such as wrenches (for plumbers), dog bones (for pet stores), and custom logos. If you want your brand to stand out from competitors and make a unique first impression at your next trade show or networking event, consider printing business cards in unique shapes. Pick your business card shape now, or check out our die-cut business cards for a custom look.