Some stickers are bland, like the bar code stickers you sometimes see on retail merchandise. Other stickers are absolutely amazing, the kind of stickers that "stick" in your head for their visual appeal or cleverness (or just because they're cool). If you're a graphic designer or marketer, you can always appreciate a great sticker design – and perhaps even feel a bit of jealousy that you didn't come up with it. Here are 10 sticker designs that are so great, you'll wish you had made them yourself.
Riviera Hotel is located in Beirut, a tourist hot spot for jet-setters. To promote the hotel, Riviera printed stickers that looked like attractive models wearing sunglasses,and placed them over restroom mirrors with the slogan "Be Seen." The campaign worked to promote the idea that the Riviera is the place to stay in Beirut.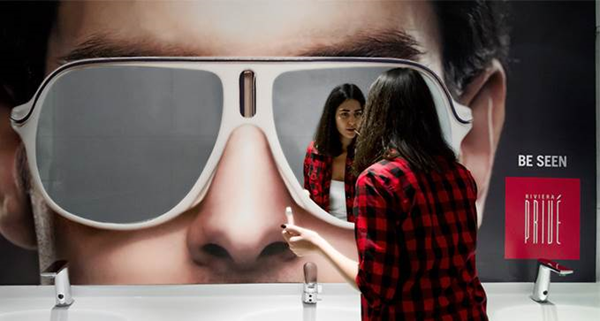 To promote an online insurance company, stickers were printed to resemble vehicle scratch marks and placed on parked cars. Then, a hidden camera recorded the reaction. The brand was promoted by the easily removed stickers as well as via a YouTube video that went viral.
Loctite promoted its Super Glue-3 product by gluing pennies to the ground. When passers-by bent to pick up the pennies, they found them securely affixed – and they also found a sticker that them know Loctite Super Glue-3 was the adhesive.
Lynx, the U.K. version of Axe, promoted its men's grooming products with a bit of augmented reality: when someone stood on the sticker, they could see an angel fall from the sky on an overhead screen. Check out the video for yourself.
55His.com created this Facebook sticker, which reads "Everyone likes this!" It's a great promotional sticker for encouraging Facebook likes that your brand can place on just about anything, anywhere. You could also incorporate a similar idea just for your brand, without the Facebook tie.
National Geographic and UPC teamed up to create this compelling augmented reality promotion, set off by a large sticker. When someone stood on the sticker, they were greeting by AR animals and people from the National Geographic world: cheetahs, astronauts and, yes, baby velociraptors. Check it out!
Live Augmented Reality for National Geographic Channel / UPC from Appshaker Ltd on Vimeo.  
For male pattern baldness sufferers, the extent of hair loss is typically not noticed because we don't see ourselves from the same angles others do. This mirror and sticker from Panorama Hair solves that problem, and motivates men to do something about their hair loss.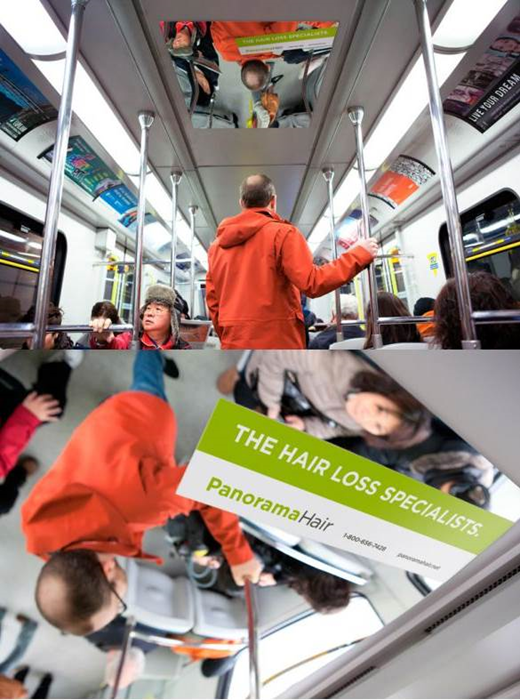 AC Delco wanted to make a name for itself as the total solution for auto problems, so it strategically placed these mechanic stickers in parking places.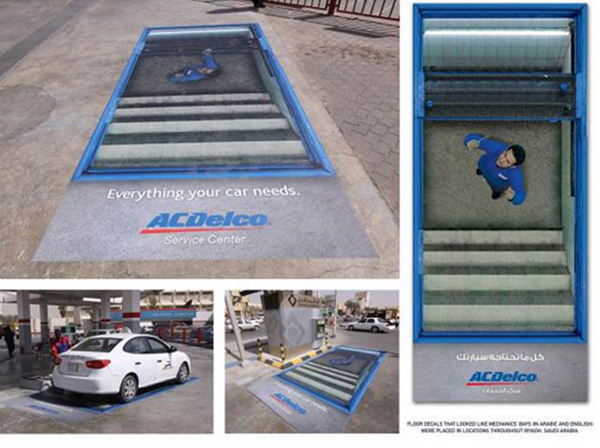 These stop signs ("pare" means "stop") were used as a means to promote stop-smoking campaigns; the poles were wrapped with stickers to make them look like cigarettes. In this manner, smokers could be reminded of the need to quit smoking at every intersection.
These stickers were placed on escalator rails to promote a sushi bar. The stickers were pretty cool, but the placement is what made this sticker marketing campaign so unique.