Every year I look forward to St. Patrick's Day, though nowadays my celebrations are relatively mild in comparison to the pub crawls I attended in college. It's still a blast getting together with friends over a glass of green beer to celebrate, and every year our host always tries to outdo the previous year's host's St. Patrick's Day party invitations.
It's my turn this year, so I've been researching St. Patrick's Day party invitations online to see if I can glean inspiration from others' designs. Here, I thought I'd share with you a few of my favorite designs from the search.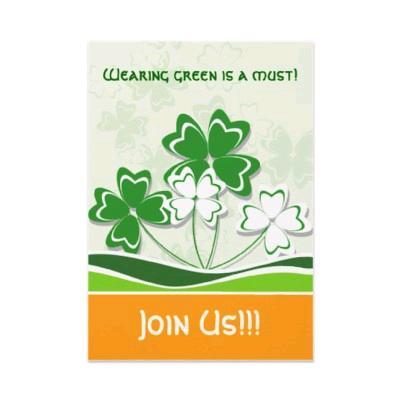 I love a festive theme for St. Patrick's Day party invitations, and this design takes the cake with patterned shamrocks that seem to pop out of a translucent shamrock background. A unique font that seems to mimic the outer edges of four-leaf clovers and the multi-hued green wave accents add class to this incredible design.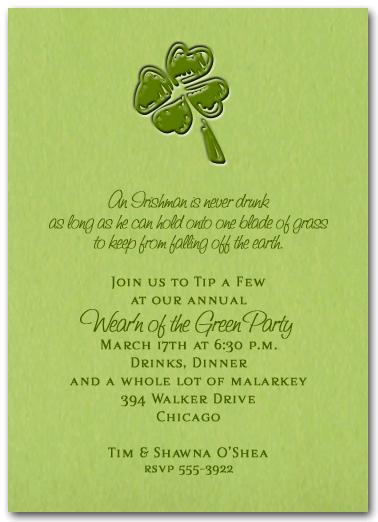 Unique and elegant, the suede background of this St. Patrick's Day party invitation is the perfect backdrop for a faux embossed shamrock. This is one of the best party invitations I've seen for any holiday.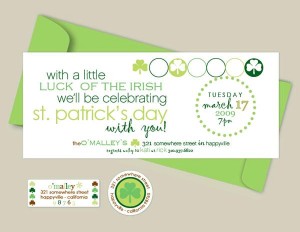 In my St. Patrick's Day party invitation search I stumbled across the website of Erin Condren, and if you haven't had a chance to check her designs out you simply must. Erin's work is absolutely amazing, and even more so when you learn that she is a stay-at-home mom with twins! Here's one of her party invitations...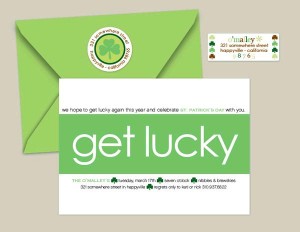 ... and here's another. What I love about Erin's designs is that they're quirky and fun. She knows how to turn fonts into design elements and use a minimalist layout to make a lasting impression.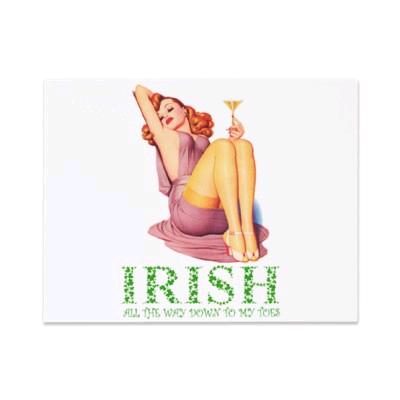 Last but certainly not least is this St. Patrick's Day party invitation design that can't be ignored. Risqué yet classy, this reminds me of those World War II era pinups sometimes seen on the side of planes, always seen on man walls and definitely a killer party invitation idea!