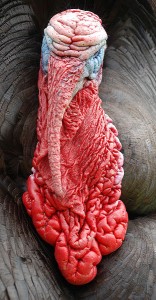 Ever send Thanksgiving invitation cards? Here's why you should – for business and for pleasure.
Thanksgiving invitation cards for business
Thoughtfulness and pleasant surprises: Toss these two elements into your small business marketing mix. A perfect way to do this in November is to print Thanksgiving invitation cards to send to your customers.
Your unexpected invitation to a special offer preempts others' Christmas promotions, and your thoughtfulness at Thanksgiving will be a pleasant surprise that builds relationships and increases loyalty. Tip: Instead of simply sending a coupon, send a voucher for a free Thanksgiving turkey or bottle of wine along with an expression of gratitude for your customers.

Thanksgiving invitation cards for pleasure
This where it gets fun. If you're hosting Thanksgiving dinner for family and friends, design your own Thanksgiving invitation cards and send them out. Your Thanksgiving greeting cards could be photo cards, humorous sayings or inside family jokes, reflective of all the blessings bestowed on your family and friends, or anything else you want it to be.
You should be able to get 50 greeting cards with envelopes for around $100, and sometimes you can find good deals when printing Thanksgiving invitation cards. At the time of this writing PsPrint was selling 50 5-inch by 7-inch custom invitation cards (your design), full-color front and back on 14-point gloss – complete with envelopes – for under $50. At under $1 per card and envelope combo, that's worth the fun whether you're in it for business or pleasure.

Image use Creative Commons license from WikiMedia, author Woodwalker.