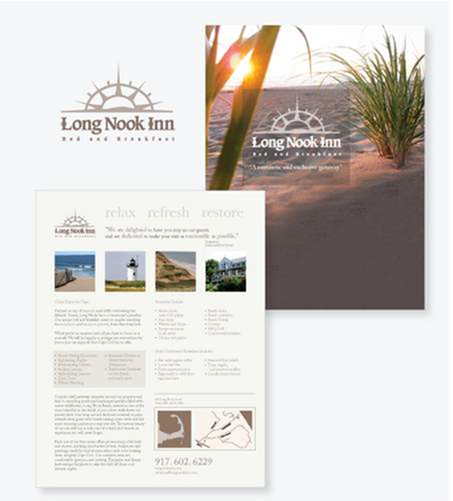 Sales sheet design by Mariah Jade Cole via Behance.net
A good sales sheet is one of the most powerful weapons in your marketing arsenal; however, not everyone knows how to print sales sheets that are effective. The goal of your sales sheet is to command attention, create desire and motivate purchases. When you set out to print sales sheets, it's important to have a specific end goal in mind so every component of your sales sheet – your design, your offer and your copy – work together toward that end goal. Here are 10 tips for sales sheets that actually sell.
1.  Large images
Print sales sheets that feature large images of your products, before and after shots of your services, or people enjoying the end result of your products and services. Large images are more attractive and can help create desire.
2.  Bold headlines
Bold, big, easy-to-read headlines command attention. Employ the use of color to help your headlines and subheads stand out, and include key benefits in your headline copy so your sales sheet is effective for readers who skim.
3.  Benefit-rich copy
Make sure that your copy emphasizes the benefits to your customer; how will your product or service solve problems or otherwise improve their lives. Keep your copy clean and minimal, with plenty of white space. Use bullet points where appropriate to highlight benefits.
4.  Charts and graphs
Colorful charts and graphs make difficult information easy to understand in a visual format. Use charts and graphs to compare your own products and services or to compare your offer against your competitors'. Don't just tell – show your customers why you're the best choice.
5.  Testimonials and case studies
Collect testimonials and case studies from real customers and use pull quotes, Johnson boxes, and other design elements to showcase how your products and services have helped others who are in similar situations as your target customer base. This helps customers identify themselves as being in need of your solution, and lends third-party validation for trust and credibility.
6.  Time-limited offer
Make a great offer to get customers on board, but set a deadline to motivate quick response. Otherwise, you risk your sales sheet ending up in a pile that's forgotten about.
7.  Powerful call to action
A bold, attention-getting call to action that tells customers exactly what to do next – and by when – will help generate better response rates. Reiterate your key benefit in your call to action.
8.  Interactive features
Make your sales sheets interactive with QR codes that lead to videos, websites, or apps that offer more detail about your products and services. Other interactive features, such as augmented reality, could also be employed.
9.  Quality discounted printing
Lend the impression that you're a quality company by printing sales sheets on premium paper stocks. Order discount printing to improve your return on investment.
10.  Targeted distribution
Make sure your sales sheet distribution is targeted to those who share your best customer demographics to eliminate wasted marketing overhead and improve your ROI.