As a modern bride, you know you can print custom wedding invitations, save-the-date cards (and wedding magnets!), envelopes, and even envelope sticker sealers. But did you can enhance your special day with other printables that work with your theme and décor to create an amazing atmosphere and enchanted experience for you and your guests? Learn all about them in this ultimate bride's guide to wedding day printables!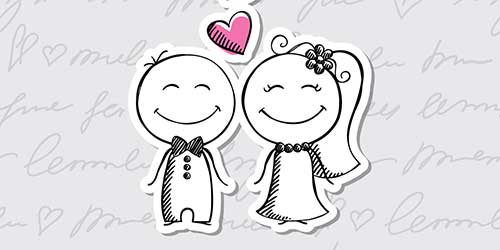 Menus
Print custom menus that show your wedding reception guests what they'll be enjoying. Your menu design can match your wedding theme and colors, and add in some photos or fun facts about your favorite restaurant dates.
Table tents
Tell the story of your love with table tents printed and placed strategically on guest tables. Include fun and interesting anecdotes, photos, and FAQs – where are you going for your honeymoon, and why?
Wedding and reception programs
Print wedding programs for the ceremony and reception. Your programs should, at minimum, feature the names of the wedding party and key family members: parents, grandparents, siblings, etc. A thank-you note from the bride and groom is often customary. With custom wedding program printing, you can print programs that feature your favorite photos and match your theme and colors.
Posters and flyers
Make a collage of your favorite photos, print them on posters and flyers, and place them throughout the reception hall. Or, use posters to help direct guests to your wedding or reception.
Wedding banners
Make sure no one arrives late with custom wedding banner printing. Banners can be placed outside your church and reception hall, and at turns between the two to make sure guests arrive on-location, on-time.
Stickers
Keep kids busy with custom sheet stickers featuring the bride, groom, wedding party, family members, and even the kids themselves! They'll have a blast playing with your stickers.
Wine/champagne bottle labels
Add an extra touch of elegance to your wedding reception with custom wine or champagne bottle labels featuring the bride and groom. Simply soak any bottle in water to remove the original label, then affix your custom label in its place and chill before your wedding.
Coasters
Print custom coasters with a photo of the bride and groom, your initials, or your favorite quote, and place them at every seat in the reception hall.
ID badges
Make introductions easy with custom ID badges printed just for your wedding reception! You can print badges that say "I'm on the bride's side" and "I'm on the groom's side" with space for each guest to write their name and relationship to you.
Contact cards
Are you moving into a new home together? Make it easy for friends and family to get in touch after the wedding with custom contact cards featuring your new address, email addresses, phone number, and other contact information.
These custom wedding printables can help you add an extra-special touch to your wedding day. Of course, when your big day is complete, don't forget to send thank-you cards to your guests!