You know how important color business cards are at networking events; they're the leave-behinds you hand out to new connections to facilitate follow-ups. Thus, it stands to reason business cards that make the best impressions generate the most follow-ups and lead to the most business. In that regard, ultra business cards are networking superheroes. Here's why.
1. Ultra business cards are printed to impress
Ultra business cards feature thick, heavy, smooth 120-pound paper stock sandwiched around an interior core, resulting in a total thickness of 45 to 50 points – three times thicker than most business cards. Research has proven how weight, size, and tactile sensations influence customers – thicker, heavier, smooth stocks help generate trust and motivate more sales.
2. Ultra business cards feature unique core coloring
Standing out from competitors is critical to business networking success, and ultra business card easily accomplish this with a colored core that creates a colored band around the outside edge of your business cards. The look is not only attractive, it lends the impression of quality: an important distinction for both B2B and B2C companies. Choose between black, red, green, blue, and white cores colors.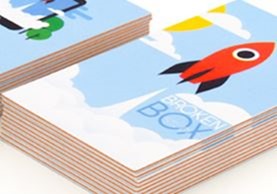 3. Ultra business cards can be big, bold squares
Standard 3.5-inch by 2-inch business cards are the norm, but with ultra business cards you have the option to take your branding to the next level with large 3.5-inch by 3.5-inch squares. Square ultra business cards are a great way to instantly differentiate your brand from competitors both visually and by feel. Ultra business cards are networking superheroes because they help you make a powerful first impression on potential customers. Why settle for standard business cards when you can stand out with ultra business cards? Order yours now!