What's the easiest and cheapest way to print your own holiday cards? If you think buying some greeting card paper from your local store and printing holiday cards on your desktop printer is the answer, you might be surprised!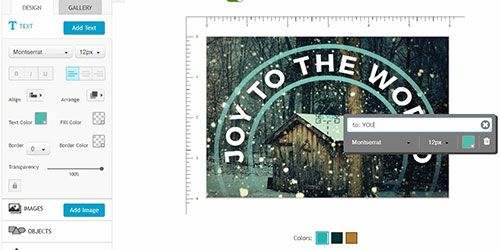 The easiest way to print your own holiday cards
Instead of making your own holiday cards with desktop software you have to install and learn, you can use PsPrint's free online holiday card design tool. Choose from dozens of professionally-designed templates, select a color scheme, then use the tool to customize your holiday cards. You can add your own:
Text
Photos
Interior message
Logo
Shapes
Colors
And more
The interactive tool walks you through the entire process, and you can create your own holiday cards in mere minutes – completely customized just for you. Since everything happens right in your browser, you don't have to mess with downloading or installing any software – which is why our online holiday card creator is the fastest and easiest way to print your own holiday cards.
You also don't have to mess around with smearing ink, low-quality paper stocks, desktop printer jams, and other issues that go along with desktop printing. The printing is done for you – and it's professional-grade, so you can send premium custom holiday cards without fighting a single paper jam.
Once you're done designing, you can select your printing options and your holiday cards will be professionally-printed and delivered to your door. Or, opt for mailing services and have PsPrint handle delivery for you!
The cheapest way to print your own holiday cards
It's easy to believe online tools make designing and printing your own holiday cards easier than doing it on a desktop printer, but what about price? Believe it or now, professional printing is actually cheaper!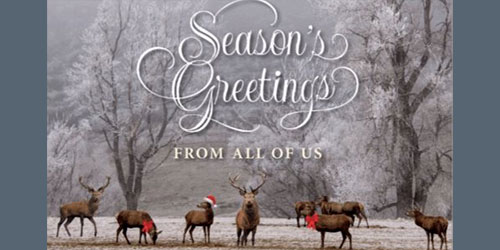 Let's compare:
50 full-color both sides 5-inch x 7-inch folded holiday cards

printed on 14 pt. gloss cover stock, scored and folded with white envelopes: $48.35
VERSUS
60 (3 20-packs) Avery Inkjet Half-Fold Greeting Cards with white envelopes: $44.97
HP 61 Black/Tricolor ink combination package: $39.99
Total: $84.96
You might not go through an entire ink cartridge to print holiday cards at home, but you'll certainly use a significant amount of ink – only to yield a lower-quality product than you'll get via professional printing. Even if you use just half of the ink cartridge, your cost is greater to print at home than to print holiday cards online.
Do some math, and it's simple to see which option is the easiest and cheapest way to print your own holiday cards. Choose professional printing, and you'll be able to send custom holiday cards that look amazing, with zero hassles, for less.
Choose your favorite holiday card template now.