Typefaces have such interesting names don't they? I am a big fan of the web-based application called "Cheese or Font," that shows you a name and asks you to identify it as a cheese or font.
You have to wonder where some of these font names came from and what the story is behind the font's invention and early use. I went through some font history, courtesy of Wikipedia and dug up these fun font facts for you to enjoy!

This group of typefaces is named for punch-cutter Claude Garamond who worked during the 1540s.
Garamond's Roman typefaces were adopted by the French court and gained influence across Western Europe.
You can visit the only complete set of original Garamond dies and matrices at the Plantin-Moretus Museum in Antwerp, Belgium.

Rockwell was first designed by Monotype foundry's in-house design studio in 1934.
Rockwell was featured in the Guinness World Records late 1980s and early 1990s publications.
The New York Times uses a similar font, Stymie Extra Bold for headlines and sometimes in its Sunday magazine.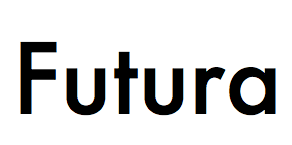 This oh-so-cool typeface was commissioned by the Bauer type foundry and designed in 1927 by Paul Renner.
Futura is based on the geometric shapes representative of the Bauhaus period.
Renner believed a modern typeface should express modern ideas rather than be a revival of a previous design.
Renner's original concepts for Futura, including alternative characters, can be found in the typeface Architype Renner.

This typeface was designed by Howard Kettler in 1955 and was commissioned by IBM in the 1950s for use in its typewriters.
IBM did not secure legal exclusivity to the typeface, and Courier became adopted as the  standard font for typewriters industry-wide.
In Hollywood it is a best practice for screenplays to be typed in 12-point Courier font.
Kettler originally named the font "Messenger," but then revised the title to "Courier" to give the font more dignity, prestige and stability.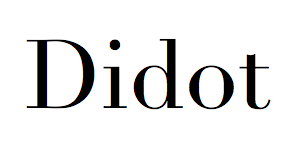 Didot was first created in 1783 by Firmin Didot, a member of a famous French printing family.
In 1814 Napoleon appointed Firmin Didot as the Director of the Imperial Foundry.
Harper's Bazaar uses the Didot typeface on its front cover, and CBS used a Didot variation for years as part of its iconic eye logo.