September is Women of Achievement month, and as a woman, I would be amiss if I didn't pay homage to the women artist pioneers that came before me. Every medium has been touched by our hands, and every country has been witness to our masterpieces. I'd like to highlight nine outstanding historical women artists, and a brief bio on each of them. Please know that this list could not possibly be all encompassing. I have chosen women who, although recognized for their artistic contributions, might not be the first to come to mind when thinking of famous women artists. These are wonderful creators that I have found during my research, and I welcome the listing of others that you feel have touched you and the world.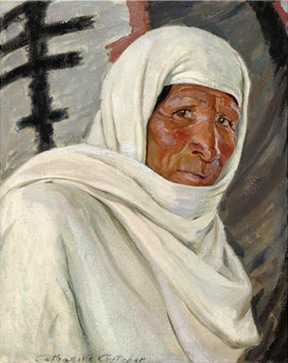 Catharine Carter Critcher (1868 – 1964) Born in Westmoreland County, Virginia, Catharine Critcher became the first and only woman member of the Taos Society of Artists in Taos, New Mexico, elected in 1924. She was known for her formal portrait paintings of distinguished easterners and also for portraits of New Mexico and Arizona Indians. In addition, she did landscape paintings, florals and figures, and locations in addition to the Southwest included Mexico, Canada, France and Massachusetts.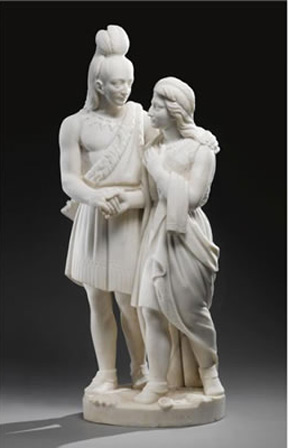 Edmonia Lewis (1845 – 1911) (Mary) Edmonia Lewis was a Neo-Classical sculptor of figural work in carved marble. The daughter of a Chippewa Indian mother and a black father, she experienced much discrimination. After college, Lewis moved to Boston late in 1863. She began to study under a well-known sculptor, Edward Augustus Brackett. She opened her studio to the public in her first solo exhibit in 1864. She found inspiration in the lives of abolitionists and Civil War heroes. Her work sold for large sums of money. In 1873 an article in the New Orleans Picayune stated, "Edmonia Lewis had snared two $50,000 commissions." Her new-found popularity made her studio a tourist destination. Lewis had many major exhibitions during her rise to fame, including one in Chicago, Illinois in 1870, and in Rome in 1871.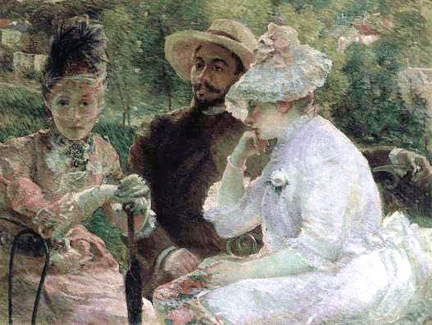 Marie Bracquemond (1841 – 1916) Marie Bracquemond was part of the generation of women Impressionists. She was born in Morlaix and was a student of Ingres. Unlike Mary Cassatt, Berthe Morisot and Eva Gonzalez, Bracquemond has remained the least known of this group of artists. Whitney Chadwick [WHO IS WHITNEY CHADWICK?] attributes this to Bracquemond's misfortune at neither having the economic nor the cultural support for nurturing her artistic abilities. Like Cassatt and Morisot, Bracquemond's works focus on domestic scenes.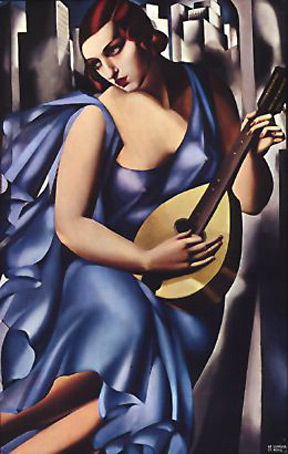 Tamara de Lempicka (1898 – 1980) Tamara de Lempicka was born into a wealthy and prominent family; her father was Boris Gurwik-Górski, a Polish lawyer, and her mother, the former Malvina Decler, a Polish socialite. Maria [WHO IS MARIA? DO YOU MEAN TAMARA?] was the middle child with two siblings. She attended boarding school in Lausanne, Switzerland, and spent the winter of 1911 with her grandmother in Italy and the French Riviera, where she was treated to her first taste of the Great Masters of Italian painting. Her distinctive and bold artistic style developed quickly and epitomized the cool yet sensual side of the Art Deco movement.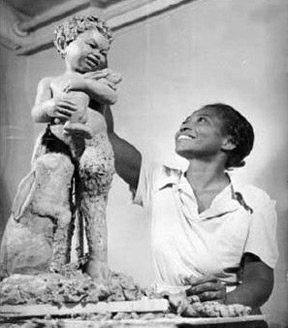 Augusta Savage (1892 – 1962) As a young child, Augusta Savage made figures out of clay, despite religious objections of her father. When she began school in West Palm Beach, a teacher responded to her clear talent by engaging her to teach classes in clay modeling. At college she earned money selling animal figures at a county fair. The fair's superintendent encouraged her to go to New York to study art, and she was able to enroll at Cooper Union, a college without tuition. When she lost the job that covered her other expenses, the school sponsored her.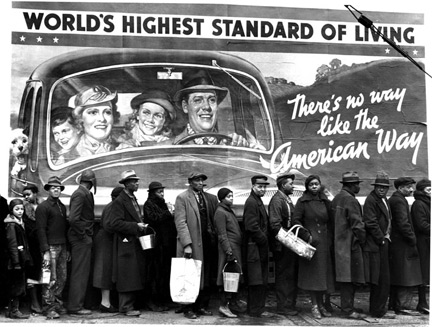 Margaret Bourke-White (1904 – 1971) Margaret Bourke-White was a leading American photojournalist, and the world's first female war correspondent. While working for Fortune and Life magazines, she traveled to combat zones in Germany, Africa and Italy during World War II. Bourke-White was also the only American photographer in Russia during the battle of Moscow. In addition, she photographed the drought victims of the Dust Bowl, the survivors at Buchenwald concentration camp and Ghandi, just a few hours before his assassination. Bourke-White went on to make history with the publication of her haunting photos of the Depression in the book, "You Have Seen Their Faces."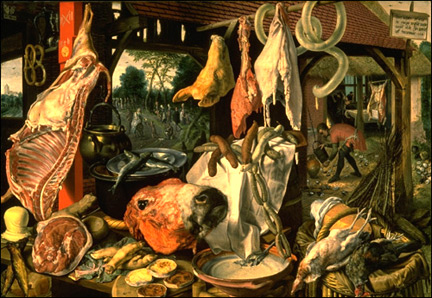 Caterina van Hemessen (1528 – after 1587) Caterina van Hemessen was a Flemish Renaissance painter. She is the earliest female Flemish painter for whom there is verifiable extant work. Van Hemessen is often given the distinction of creating the first self-portrait of an artist, of either gender, depicted seated at an easel. As with many Renaissance female painters, she was the daughter of a painter, Jan Sanders van Hemessen, who was likely her teacher. She went on to create portraits of wealthy men and women often posed against a dark background. She is best known for a self-portrait painted in Basel. Her success is marked by her good standing in the Guild of St. Luke and her eventual position as teacher to three male students.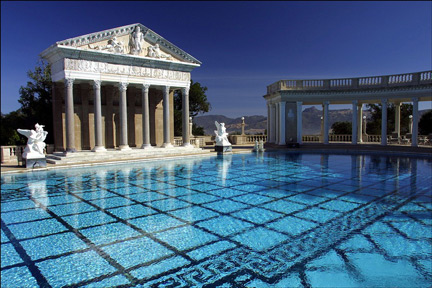 Julia Morgan (1872 – 1957) Julia Morgan was one of the nation's first prominent female architects. Born in 1872, a native Californian, Morgan was one of two dozen female students to attend the University of California, Berkeley in 1890, where she was the only female studying civil engineering. Morgan then became the first female architect to graduate from the Ecolé des Beaux-Arts in Paris. She returned to the West Coast and after working in another architect's office for two years, established her own practice in San Francisco at age 32. One of her best known works is the Hearst San Simeon Estate, recognized as a National Historic Landmark.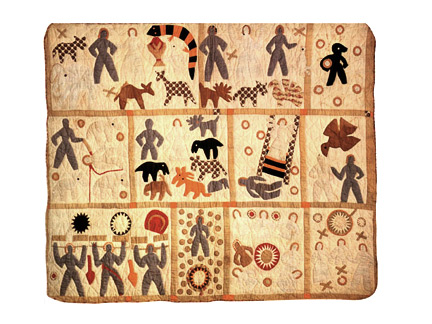 Harriet Powers (1837 – 1911) Born a slave in Georgia, Harriet Powers created two quilts which are the best known and well preserved examples of Southern American quilting tradition still in existence. Using the traditional African applique technique along with European record keeping and biblical reference traditions, Harriet records on her quilts local historical legend, Bible stories and astronomical phenomena. Her quilts were first seen at a crafts fair by an artist, a Southern white woman named Jennie Smith. Although it was certainly painful for Powers to sell her quilts, doing so she thus, unknowingly, preserved them for future generations. They are now on display in the Smithsonian.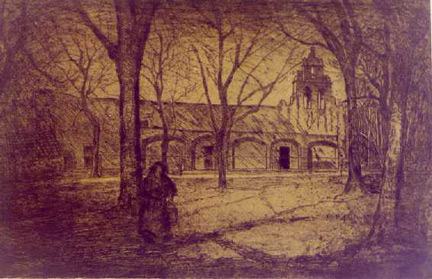 Mary Bonner (1887-1935) Mary Bonner was born in Bastrop, Louisiana, and she and her family moved to San Antonio, Texas in 1897. She received her formal education in the U.S. and Europe. Bonner studied with Robert Jenkins Onderdonk in San Antonio and later in the northern states under Richard Miller and Bolton Brown. In 1922, she stayed the summer in Woodstock visiting relatives, where she first became interested in print making. In 1924, she moved to Paris, France and started her print making studies with Edouard Leon, which she remained for numerous years. Bonner was known as the Texas Girl-Etcher of Cowboys. Her sparkling ingenuity, humorous originality and sure craftsmanship in cowboy friezes have won recognition that remains entirely her own.