When it comes to self promotions, there's no need for designer's to play it safe. The graphic design self promotion has become its own kooky genre where you can run wild with those ideas that might not fly for client work. Here's a roundup of some fantastic self-promotion ideas that really showcase the designer's personality and creativity.  For even more great ideas, get your hands on a copy of the "Big Book of Self Promotion."
At the 2008 The London Design Festival, which features design work from students, these young men wore sandwich boards advertising their rates. The theme of the exhibit was to explore the ways students find work after graduating.  [image via
www.manystuff.org
]
Freelancer Jonathan Davies created this clever folded calendar as a self promotion for his design work. I love the type on the front describing all of the different seasons. [images via Davies' website Helo Milo www.hellomilo.co.uk]
A funny self promotion for
looking + listening
, a graphic design, website and and online marketing company. The photo is great, the copy is short and sweet, and placed in just the right spot. It all works well together. [image via
www.lookinglistening.com
]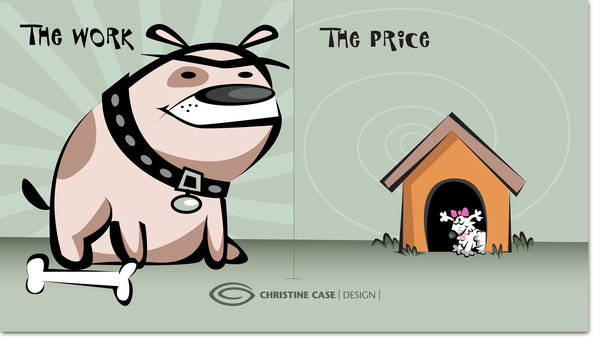 Another very funny self promotion. This one is for
Christine Case
, designer and illustrator. This and some of her other self promotions are featured in
AIGA's member gallery
. Graphic designer
Emerson Taymor
uses a custom
die cut
of his body to make his
business cards
exceptionally interesting. Check out this and some of Taymor's other self-branding ideas on his website, 
www.emersontaymor.com
. Adding new meaning to the cliche "It's in my blood," designer
Michael Nagy
put his CV on a bag of fake blood and photographed it for a self promotion. This very creative idea was featured on
Behance.net
. Try searching Behance.net for "self promotion" to see more ideas.