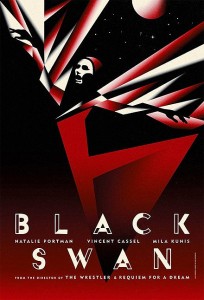 One of my most anticipated movies to watch this year is Darren Aronofsky's "Black Swan." It's appropriate that as the Golden Globe nominees were announced today, I have plans to see the nominated film tonight.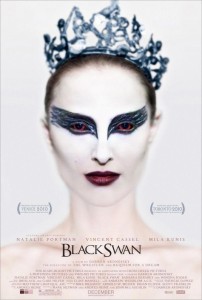 The film my friends are calling the "ballerina Fight Club" first piqued my interest with director Aronofsky's name attached to it. I love his movies, from "Pi" to "Requiem for a Dream" to "The Wrestler." Then I saw the movie poster (right), with Natalie Portman having come a long way since "The Professional." With blood-red lips and matching eyes, Portman's gorgeous yet off-putting presence on the poster indicates this will be no traditional ballet movie. That brings to mind: What is a film poster's role? It's marketing, of course. But a graphic designer's challenge is to know how to balance different elements and when: Do you highlight the star power attached to the movie? Exciting or attractive artwork? Flashy typography? Do you give away the plot or tease the audience? How much is too much or too little?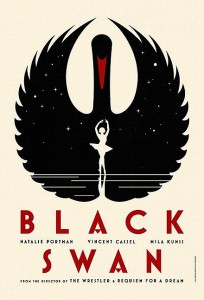 I admit that the star power aspect works for me in the "Black Swan" poster, though even if only Aronofsky were attached, I'd likely still be interested in a movie that I've heard gets pretty dark in showing the masochistic ballet world. Today a co-worker showed me Empire's four limited-edition international posters (top left and bottom left) for "Black Swan:" gorgeous, Art Deco-y works that I would have no problem hanging on my walls – if only I had the room. Check out some of these cool movie posters and think about the design aspects that appeal to you. Is a career in film poster design in your future?