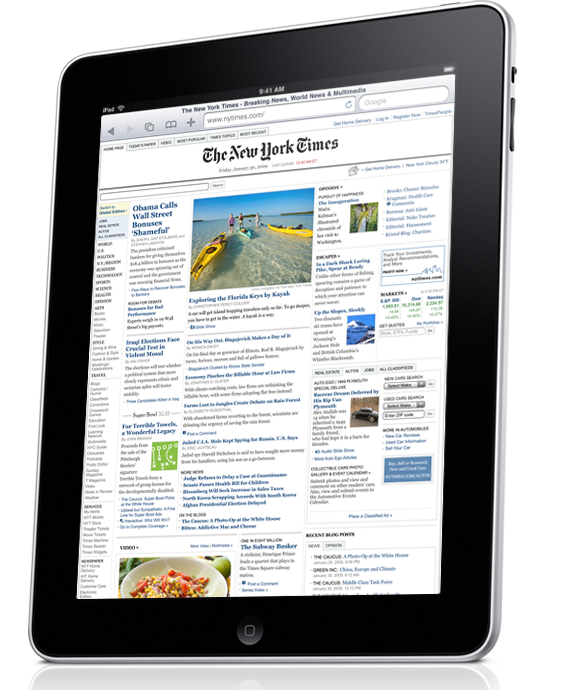 Is there any company that stirs up as much excitement about a new product as Apple? Even before Steve Jobs took the stage in San Francisco on Wednesday, people were speculating about what a game changer the new gadget would be and how much they wanted one. Well, now we've glimpsed the iPad, and we have to wait until March before we can truly get our hands on it. Will you be in line on day 1?
Apple's iPad is a bit of an in-between device – as PsPrint Facebook fan Alan calls it a "scaled-up iPhone." Nowhere on Apple's website can I find it called a "computer" – rather, it's dubbed a "device." The iPad is capable of computing tasks and has a 1GHz Apple A4 custom-designed processor, so it's geared for Internet, video, photos and even gaming. That power makes the iPad somewhat ideal for graphic design as well, but it lacks a couple of things. One of those was made evident during the presentation: The iPad does not have Flash, as identified by the icon for the missing plug-in.
Another item that designers such as Paper Leaf Design have been chattering about on Twitter is the lack of a stylus. The multitouch-screen iPad does have an optional keyboard, but a stylus would probably make it that much more attractive to designers.
On the plus side for small businesses is the iWork application with Keynote, which provides presentation capabilities. And the fact that the iPad is portable and has 3G and Wi-Fi connectivity makes it an option for mobile companies and their employees. The price tag came as a surprise: it starts at $499 for the 16 GB, Wi-Fi version and tops off at $829 for the 64 GB, Wi-Fi plus 3G version. Speculation prior to Wednesday's announcement had the tablet's price hovering around $1,000.
Is the iPad something you'll snatch up the day it goes on sale? Or do you not believe the hype?