A Father's Day card can be a tricky thing. So many cards are jokes at dad's expense. He's either portrayed as an obsessive, a tactless lout or an incompetent boob. We know that dads can be a complicated and varied lot so it can be hard to get the sentiment just right and make it seem personal. Father's Day should be a time to appreciate dad for who he is. There are some funny, touching and graphically beautiful cards our there waiting for you to pen a simple message on them. Here are some of my favorites.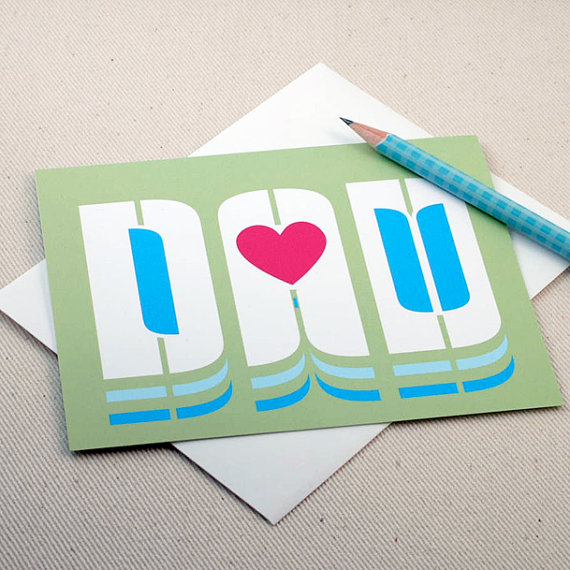 This card from Etsy seller bjoytomac keeps it simple and bold, letting your message on the inside provide the heart string tugs.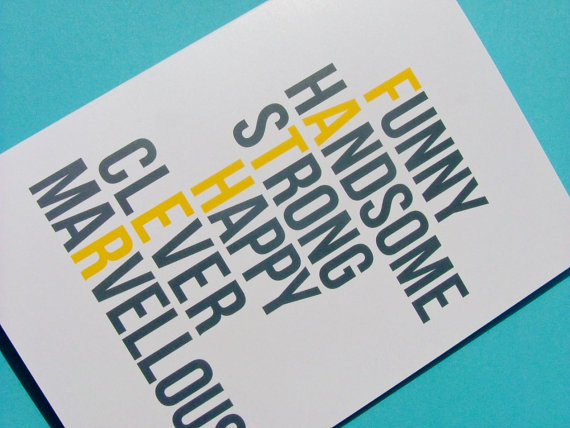 Etsy seller Doodlelove does a nice job of keeping it typographic. Some dads are no-frills kind of guys and an all-type card keeps it masculine and clean.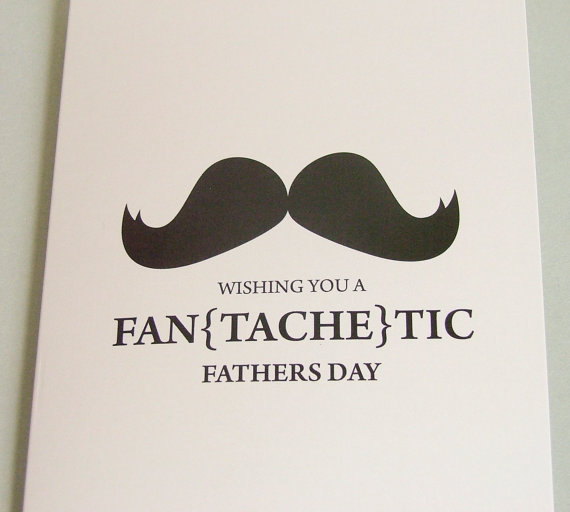 Etsy seller Doodlelove takes a funny approach with this homage to dad's facial hair. You know he's been rockin' that 'stache since "Magnum P.I." was on.
Dutch Door Press tends to make cards with folksy, quilt-inspired, Americana visual elements. The simple shapes, subtle patterns and bright colors give this card s sweet, child-like innocence.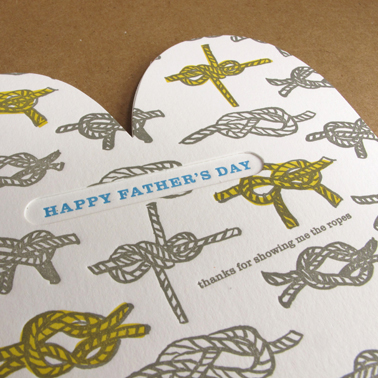 What's manlier than knowing how to tie different kinds of knots? Maybe ripping a phone book in half but not much else! Dad has taught you a lot of things. Some by instruction and others by example. this card from Egg Press gives a nod to both.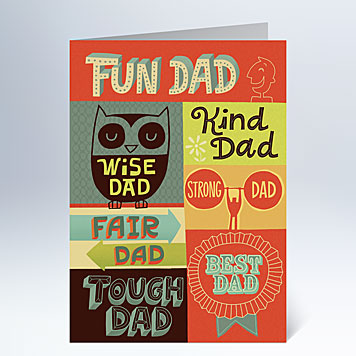 Surprisingly enough, Hallmark has a few great Father's Day cards. This one uses a nice color palette as it enumerates all the aspects of dad.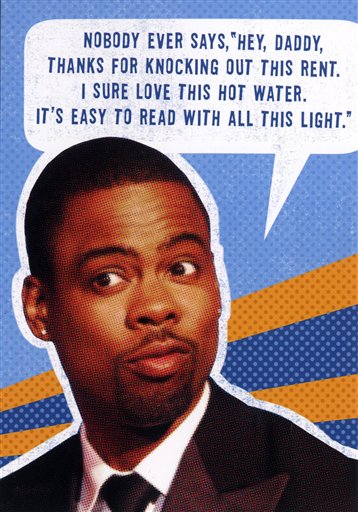 This is actually an old Hallmark card but I couldn't resist including it. Firstly, who knew Chris Rock was  on a Hallmark card, right?! And, secondly, I love the sentiment. Dads work hard with little thanks to make sure everything is taken care of asking for no rewards and making no complaint.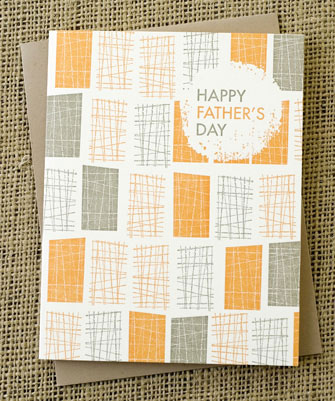 Hello Lucky makes this very retro "Mad Men"-inspired card for the hep cat daddy-o in your life.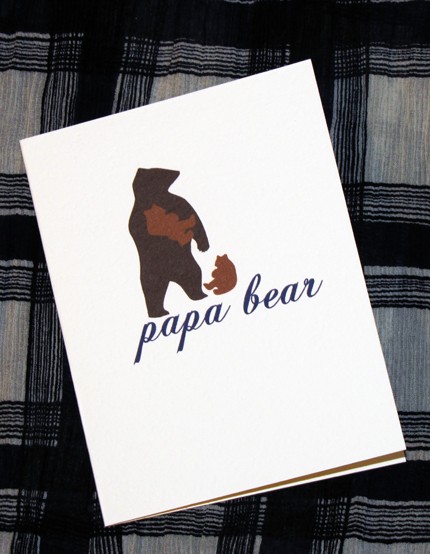 This card from Etsy seller Hearts Grow fonder is warm and fuzzy - especially good if your nickname for dad happens to be Papa Bear.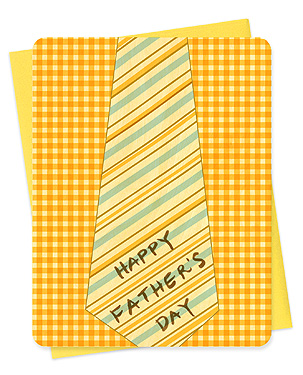 Instead of giving dad a tie you can give him a tie card from Night Owl Paper Goods. This card is actually a thin sheet of birch wood.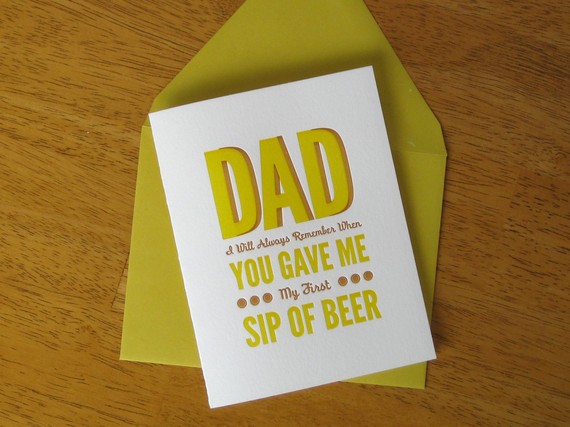 Paper Plates Press takes a common childhood moment of curiosity satisfied...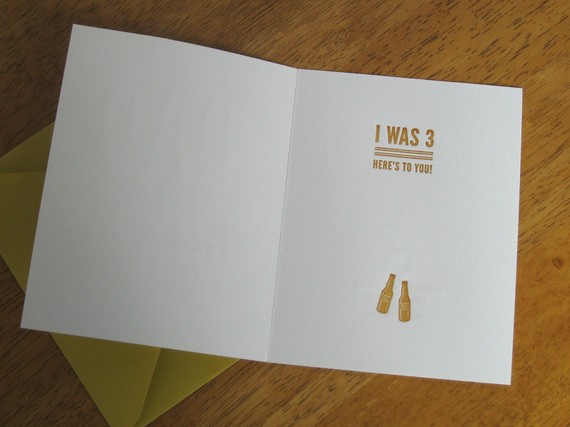 ... and makes it hilarious.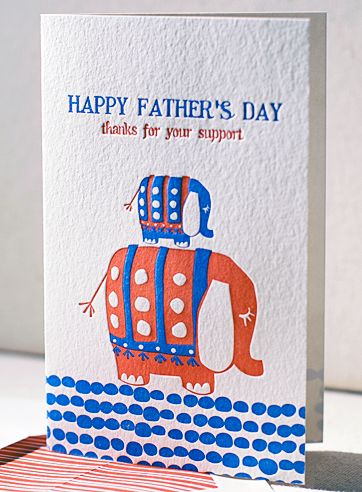 Smock makes this vibrant card. Sometimes when someone wins an award they say that they were already "standing on the shoulders of giants." This is a nice visual representation of that.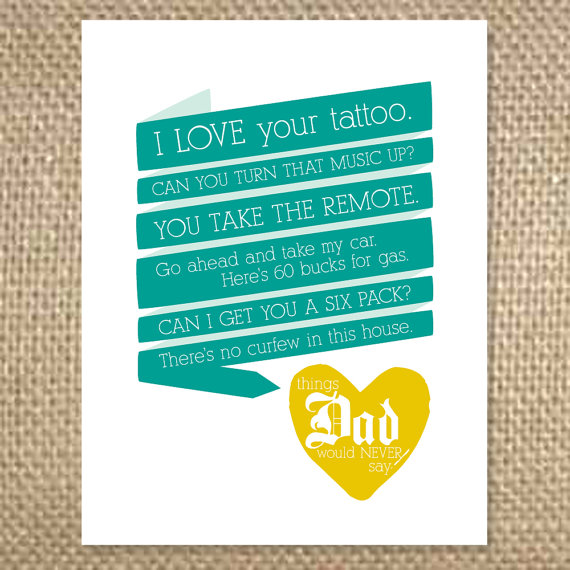 Etsy seller u lucky girl brings a funny twist to Father's Day by focusing on what dad would never do. The ribbon treatment leads the eye down in a nice way that pays off in the punchline.