Get your beads because today is Mardi Gras! Why do people also call Mardi Gras Fat Tuesday? Because Mardi Gras falls on the Tuesday before Ash Wednesday, which signals the beginning of Lent. During Lent, people tend to give up eating fatty foods. So the day before, people tend to eat a lot of those bad foods and indulge before giving those luxuries up. I love vintage postcards and posters so in honor of Fat Tuesday in the Big Easy I've rounded up some vintage Mardi Gras souvenirs. Many of these images are taken from Wikimedia commons and could probably be re-used for a special postcard or invitation printing project.
Vintage Mardi Gras poster for a celebration in Mobile Alabama in the year 1900. Image via www.zazzle.com.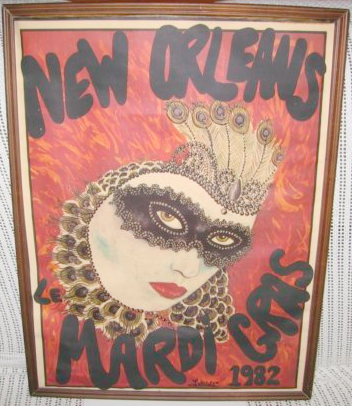 This illustrated 1982 poster was featured on Etsy.com by seller Lunchboxlady.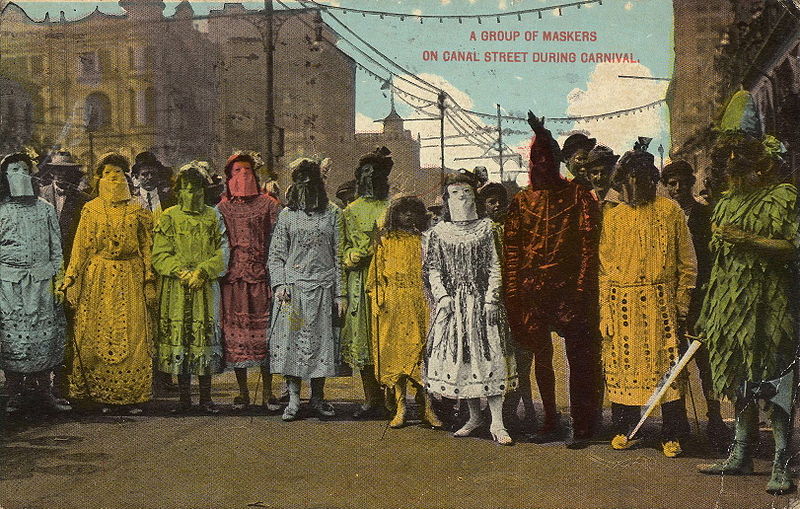 This postcard shows a group of revelers on Canal Street. If anyone knows what this vintage color technique is called, please leave the information in the comments. This odd coloring is found in many of the samples to follow. Image via commons.wikimedia.org.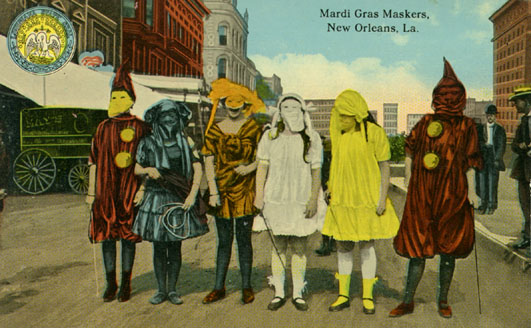 Here's a similar-looking postcard that seems to be from around the same time period as the postcard above. The colors on this one are much richer. Wonder what that seal means in the top left corner? Image via www.store.tidbitstrinkets.com.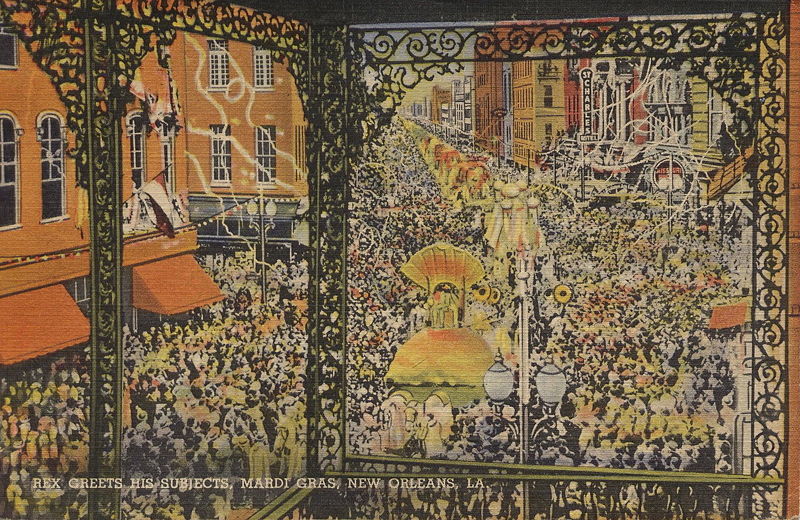 This illustrated card shows the procession from an iconic wrought-iron balcony. What a beautiful perspective to frame the postcard with! Image via commons.wikimedia.org.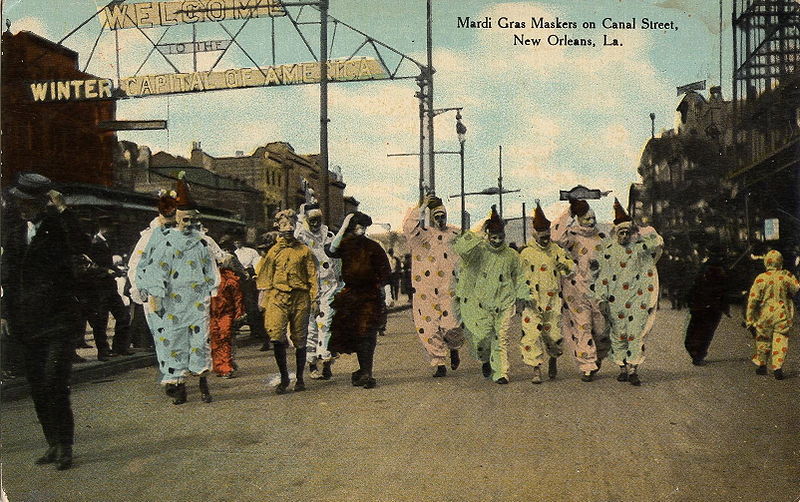 Send in the clowns! According to the sign in the background NOLA is the "Winter Capital of America." Image via commons.wikimedia.org.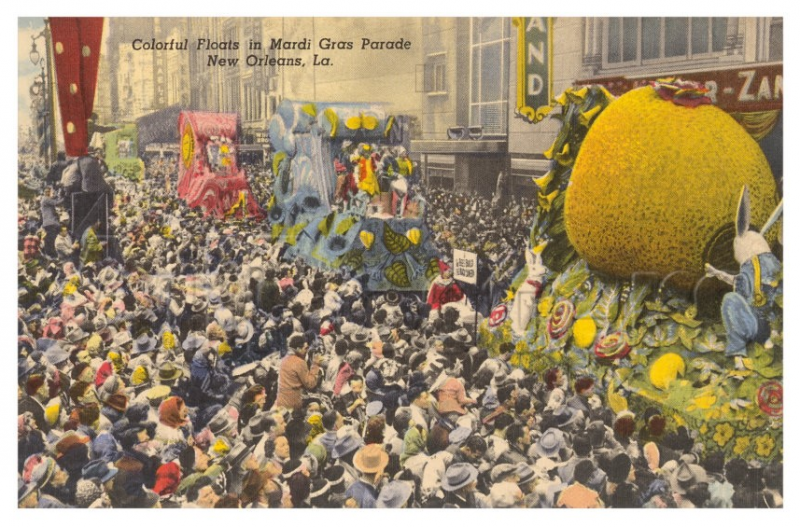 This poster looks like it's more modern. I love the close-up views of the floats and the apparent crush of the crowds. Image via www.allposters.com.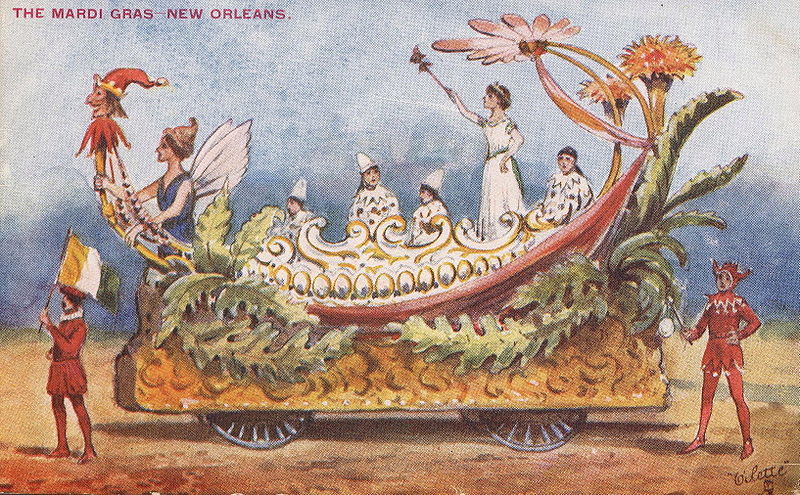 This illustrated postcard is much more whimsical than the others, which just depict street scenes. Image via commons.wikimedia.org.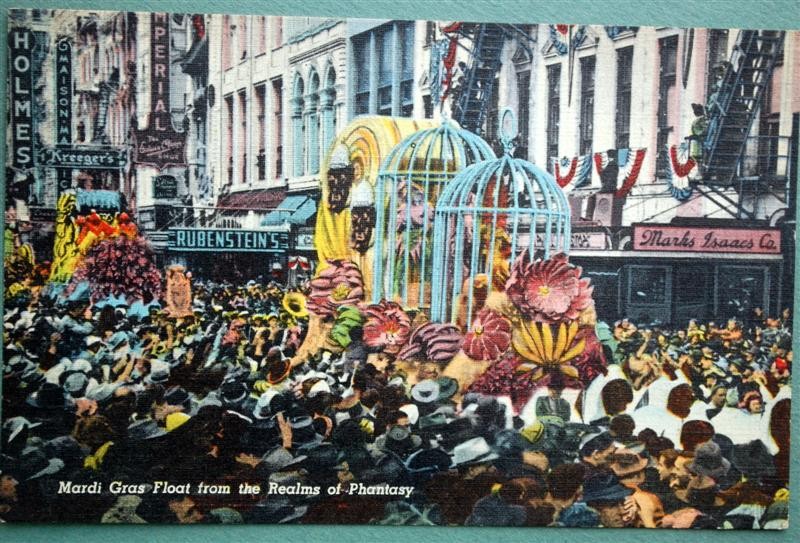 Another more modern postcard showing the Mardi Gras parade in New Orleans. I like all the store signs in the background! Image via bananastrudel's shop on Etsy.com.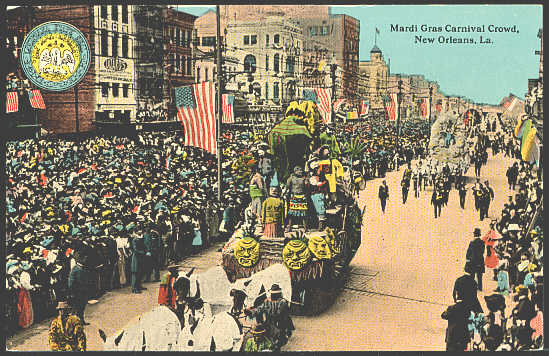 There's that blue and yellow crest again. The source for this card says its from 1911. If any of our readers might now more about these vintage postcards, such as what the crest is for and what kind of color techniques are used, please leave your thoughts in the comments. Image via www.moodyspostcards.blogspot.com.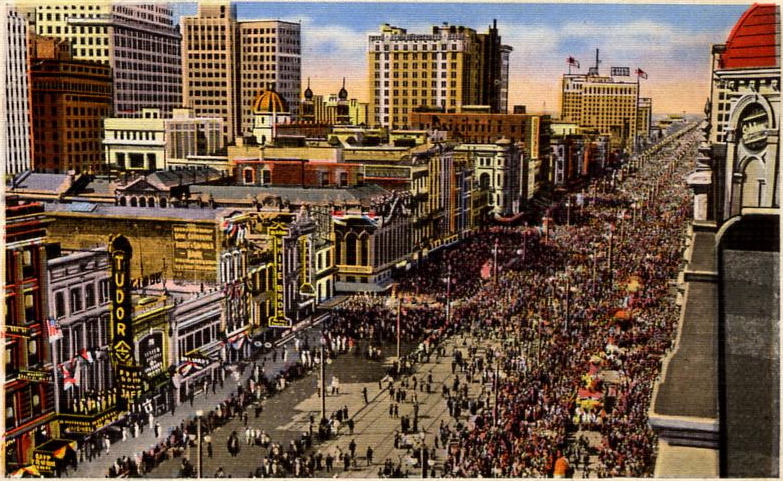 Here's a view of Canal Street. This particular example looks like it may also be from the early 1900s. I love that the artists captured the sunset in the background. Do you think you could recreate this vintage color and light somehow in Photoshop? Image via commons.wikimedia.org.
Featured Image credit: Caitlinator