The term "foodie" has been around since the '80s when authors Paul Levy and Ann Barr published "The Official Foodie Handbook." "Foodie" represents food aficionados - people with a refined sense for all things culinary.
Nowadays, foodie influences are everywhere, with the rise of organic stores such as Whole Foods, reality cooking shows such as "Top Chef" and a slew food bloggers (i.e. "Julie & Julia").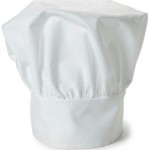 Your clients and prospects could be foodies!
It doesn't matter if you are an accountant, real estate agent, auto mechanic or hair stylist -- there's a good chance your clients or prospects will have an interest in the foodie movement.
Why not test a free recipe card giveaway to hand out to clients and prospects? Print recipes in a brochure format, on a bookmark, oversized business card or a postcard, and hand out at your location, or slip them into any marketing mail or correspondence.
Benefits of a free recipe giveaway
This free recipe card will keep your business top-of-mind, show clients your personal side (a favorite recipe of yours), make them feel valued and give you something to talk about during a follow-up phone call, "Hey did you try that barbecue recipe from my card?"
Here are some tips for putting together a free recipe card:
1. Make it seasonal
Think about upcoming holidays and ingredients that are in season when you are planning to release your card. For example, a barbecue recipe or recipes with tomatoes and corn (in season) work well for summer. You can even plan out four recipe cards for the year and release them in the fall, winter, spring and summer. Here's a website where you can find out which foods are in season when.
2. Make it local
Use a recipe with ingredients that are easy for your local clients and prospects to shop for. It also works to partner with a local eatery or chef, asking them to contribute a personal recipe and in turn, providing a free promotion for their restaurant or cookbook. Prospects and clients will be more likely to hang on to the free recipe card if they see a favorite restaurant or chef is included.
3. Make it personal
The best recipes are your own or your family's recipes passed down from generation to generation. Grandma's lasagna recipe shows your personal side and will appeal to clients and prospects emotions. Be sure to test any recipe you use, to work out any kinks and streamline the instructions or ingredients for other cooks.
4. Don't forget to promote!
At the bottom of the recipe card provide your business information, address, phone number and a tagline or blurb about the products or services you provide. People love to pass recipes along. Creating a free recipe card means your business contact information will be passed along as well.