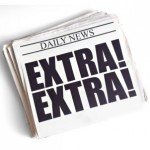 When something changes in your professional life it's wise to let your clients and colleagues know about it via a formal announcement card. More than an e-mail message or Twitter or Facebook update, sending out a custom announcement card will make recipients feel valued, like they are a part of your "inner-circle." It's just one more way to communicate with folks about your business in a positive light. Here are some business milestones worth noting in a custom announcement card.
We're moving
We're launching (website, product, service)
We've been recognized by (publication, award ceremony)
We're certified as
We're celebrating so and so's (degree, certification)
We're now members of (chamber of commerce, industry organization)
We're participating in (contest, fundraiser)
We've hired
A standard announcement card format is a greeting card and envelope with simple black type on white card stock. You can get as colorful, glossy and creative as you wish, but a simple black and white message on matte paper will come across as a true announcement and not just flashy advertising mail. Always include your business logo and contact information, as you would on letterhead. If the announcement is about an individual, then include a copy of his or her business card in the mailing. Keep the text short and to the point using the "We're announcing" cues above. If you do want to add promotional offers or coypwriting, you can slyly craft them into the text of the announcement, or include a separate brochure in the envelope, so as not to distract from the formal announcement. Include enough information for customers and colleagues to act on your news. For example, if you are announcing a new hire on your sales team, include that person's contact information, what product or service they'll be covering and maybe offer an initial discount or sale to get the ball rolling. If you are sending out a relocation announcement, try including an insert in the greeting card format that shows a street map of your new location. Or, you can include a coupon for a discount at the grand opening of the new location. Whether you're moving your office or running for office, letting people know via a custom announcement card will only add to your future success!