Coming up with a great postcard design will definitely make your clients happy, but having their postcards rejected by the postal service will make them very unhappy very quickly.
As a designer, it is our responsibility to know how our clients intend to use our designs so that we can produce something that will be compatible with their distribution method. There are set regulations that the postal service requires that everyone follows, so for your next postcard design, keep these rules in mind: Make sure that you include a correct, legible return address The return address should always be in the top left-hand corner of your postcard. It should be in a font that is legible, and the font color should be in enough contrast from the background that it can easily be seen. This goes for the mailing address as well. Using mailing labels could also be an easy way to make sure that this is done without a problem. Leave room for the postal services' barcode and markings No text or graphics greater than 7 percent grayscale should be included within 5/8-inch of the margin at the very bottom of your card. The post office scans every piece of mail that comes through and their machines automatically place important information on the bottom of your card. If this area isn't clear, those markings can't be read, and your card will be sent back. See the illustration provided by ModernPostcard.com as to how to set up your card.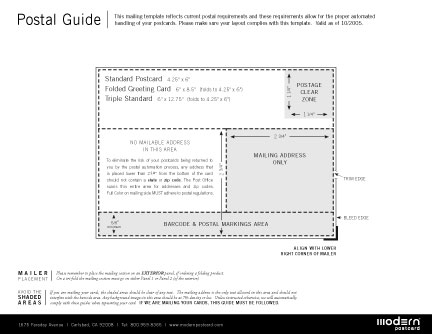 Leave room for postage Your client may use a stamp, or they may have a bulk stamp number or a nonprofit permit. Regardless of how they intend to use their postage, it's important that there be a designated place for their postage. When the post office processes your postcard, they are going to stamp the postage with their own marking that shows the postdate of the card. All of this information and area needs to be clear for them to properly distribute your postcard. Be careful about rounded corners There are a lot of conflicting messages about whether or not you can mail out postcards with rounded corners. But from USPS themselves it is OK to mail out materials that are "Rectangular with four square corners and parallel opposite sides. Letter-size, card-type mailpieces made of cardstock may have finished corners that do not exceed a radius of 0.125 inch (1/8-inch)." Basically, if your rounded corners do not exceed 1/8-inch radius, then you're perfectly fine.