To revamp your brand in 2011 try a business card redesign. A redesign means you keep the design mostly intact except for one or two added or subtracted variables. A fresh design can make your cards pop.
A new design also gives you a good excuse to re-issue cards to friends, family and clients. Even if they already have an old card, they might want to check out the 2011 version.
A designer who is willing to refresh their own identity and ideas will be even more appealing to clients. Below are some business card design elements that you can vary and experiment with to improve the overall look and feel of your cards.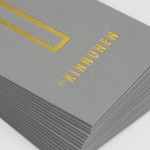 1. Add foil stamping
Make your cards shiny and new with a foil-stamp treatment. Take an element and make it really stand out with a metallic finish. Talk to your print vendor about their foil-stamping capabilities and what kind of colors they offer. Don't over do it. Only use foil stamping where it enhances the design. The business card featured at left is so minimally designed that it works to have all the elements foil stamped. I think foil stamping looks best on thick, matte card stock. Card stock with a bit of texture also tends to carry the metallic design well.  [Image via www.lottanieminen.com]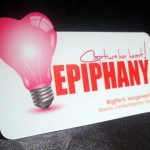 2. Experiment with die cuts
A die cut can help to change the outside shape of a business card and get your card noticed. Imagine holding a stack of a dozen business cards: If they are all standard rectangular cards, the one with a rounded edge or die cut will feel unique. One rounded edge or four rounded edges gives a card a different feel and works well with certain types of fonts. Or, you can develop a custom die to cut out a letter, or logo shape from the edge of the business card. The card shown at left does just that, with the heart-shaped light bulb emerging passed the edge of the card. In rare cases, a die cut in the center of the card, in the shape of your logo can add to the design. Just be careful not to take away too much valuable real esate, or you'll no longer be able to fit your contact information on the card!  [Image via www.badassbusinesscards.com]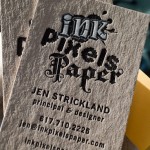 3. Choose a new paper stock
There are many choices when it comes to business card paper selection. Matte or gloss paper can change the whole effect of a  business card design. One way to dress up an old design is to vary the paper treatment and do gloss on one side, and matte on the other. Then bring out an element of the design with a spot-gloss treatment (this will make one element stand out as shiny from the matte background). Business cards are generally printed on 100-pound stock; however, some designs will warrant a much thicker stock. I always say the thicker the stock, the better. Thicker cards will hold up better against wear and tear. Additionally, a thick card stock just feels expensive and can increase your value in the eyes of the card recipient. In the featured card design to the left, I'd argue that the paper is integral to the design. Without that particular stock, the design would be flat. [Image via www.cardobserver.com]

4. Take away an element
A recent blog post from A2591.com caught my eye. In the post, the designers take well-known brands and show the original package design, then a slightly minimalistic version, and finally an ultra-minimalist design. It's an interesting exercise, and one I think designers should experiment with on their business card designs. Business cards are limited in terms of real estate. Is your business card cluttered? Is every element in the design necessary and contributing to the overall theme or purpose? Try taking away a few design elements and see if the results are more pleasing. [Image copyright of www.a2591.com]