Let's define what the "live area" is and why it is important to design within this area when designing for print.
So, what is the fabled "live area?" The live area is the area in which your printer deems a safe zone for important text or images. This is an area of your printed piece that they can deem safe from cropping. See the example image below depicting the different zones to keep in mind when designing a business card: Green is the bleed area; blue is the finished size trim area; and the red is the live area or safe zone.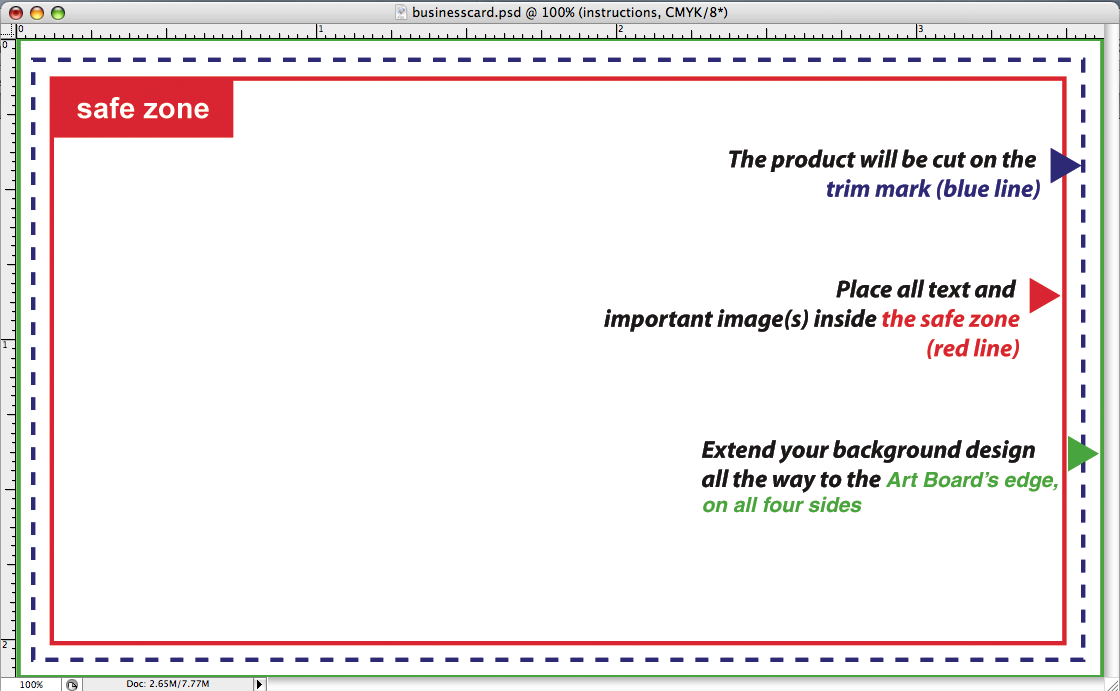 How to figure out the live area You may be wondering how big the live area or safe zone is. Well there is no set answer for that because every printer has their own safe zone or live area. For example, PsPrint recommends a live area of 1/8-inch from the finished cut edge on every side of a printed piece. I like to put important text or graphics at least 1/8-inch from the trim edge. I do this because, even if your printer allows 1/16-inch from the trim edge, if the printed piece was not cut perfectly square and exactly to size, then your text or images will emphasize if the trim was less than perfect.
General guideline points:
For color business cards or small postcards where surface real estate is minimal use 1/8-inch from trim edge for your live area.
For large postcards or brochures where surface real estate is flexible use 1/4-inch to 1/2-inch from trim edge for your live area.
Always check with PsPrint or their product templates before you start your design to make sure how much to allow not only for the live area but for the bleed area, too. (The bleed area is the amount you should extend background images or color beyond the finished cut size of your printed piece.)
Remember only you can prevent bad design. Although your printer is not responsible for telling you if your text or image is in the danger zone, some online printers such as PsPrint will contact you if they catch a file setup or design error. To save time, you should treat your printed pieces like an important investment. Take the time to research what the successful companies are doing for their printed material, get out a ruler and measure that margin! Better yet take some design classes or hire your friendly neighborhood graphic designer. By doing some prep work and designing in the live area you will save yourself money, time and a few trees by avoiding a print job you might have otherwise had to scrap.