When creating a duotone in Photoshop, the first thing you need to do is convert the image into greyscale.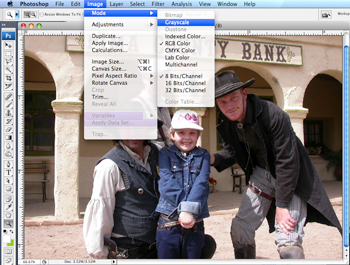 Under the image menu, go to mode and then greyscale. You will get a pop-up window that asks if you want to discard the color information. Click discard.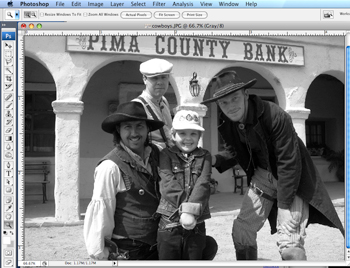 For the next step, go back up to image menu and pull down to mode again. This time select duotone.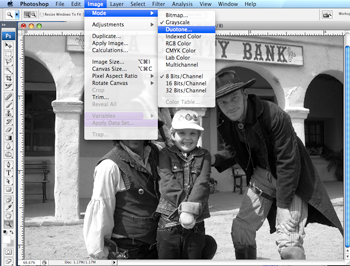 This will bring up the pallet. Notice that you have the option to create a monotone, duotone, tritone or quadtone. Select duotone.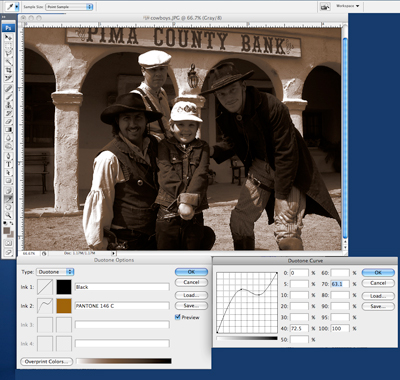 Within the duotone window you will see the two duotone colors. The default colors will be the colors from the last duotone that was made. Select your first color. To select new colors simply double click within the color boxes, this will allow you to select new colors. Notice as you select a new color you will see a preview. I selected black for my first color. Now do the some thing for the second color. I selected a brown because I'm trying to get a vintage look. Now for the fun part: Once you've selected your colors you can play with the curves to adjust the amount of each color. To do this, simply double click on the small curves image in the duotone options pallet. This will bring up the duotone curve window with a larger version of the curves. Start by experimenting. Just grab the curve with your curser and move it round. The change will show on your image as you are moving the curves. Just play until you have something you like. You see this popular technique used everywhere. It's the perfect way to give your work a unique look and feel. And best of all, it's so easy.