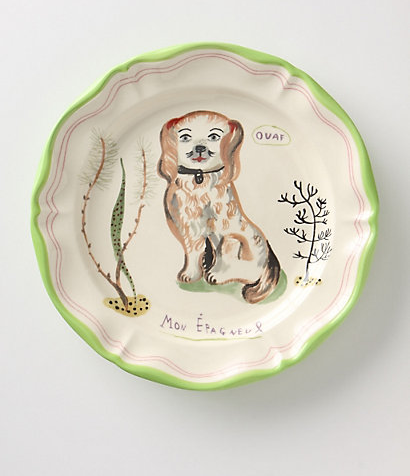 This is a group of plates from Anthropologie that use French phrases to charming effect I love learning how sounds get transcribed in other langauges. Here the familiar "woof!" is replaced with  "ouaf!" and instead of translating to "My Dog" it translates to "My Spaniel."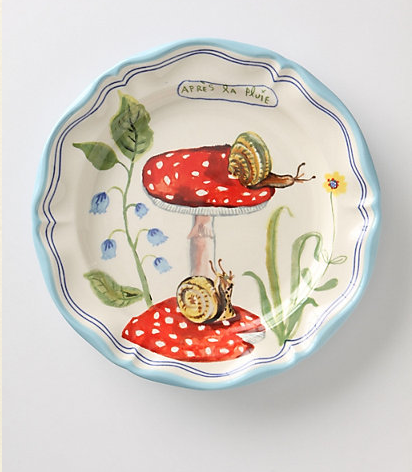 This plate translates to "After the rain."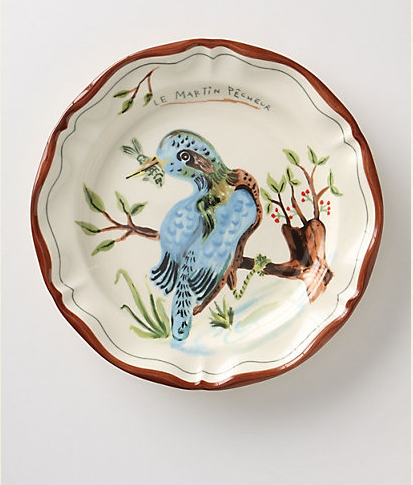 "The fishing Martin" has his prize in his beak.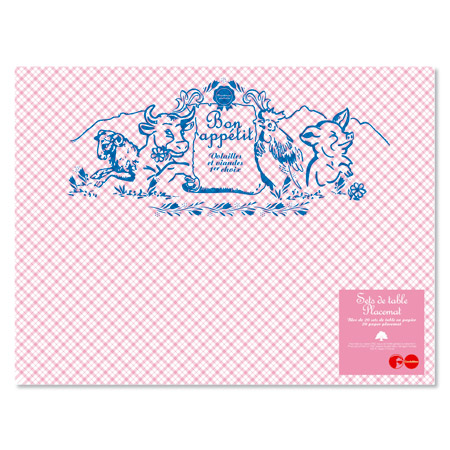 This is a package of paper place mats printed with a vintage french butcher-shop pattern from basicfrenchonline.com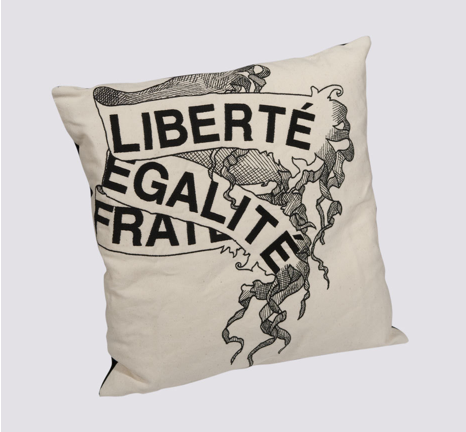 The French motto of Liberty, equality and brotherhood is emblazoned on this pillow from Commune de Paris.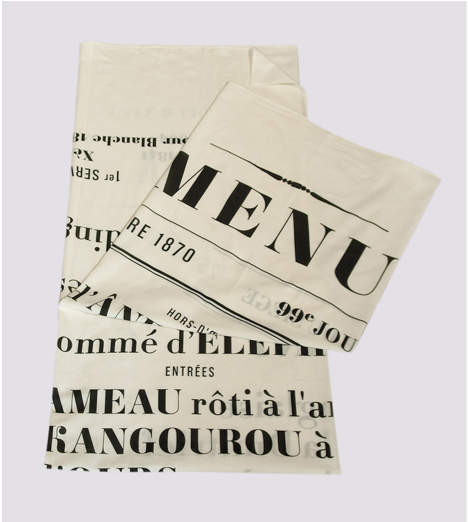 This flour sack tea towel from Commune de Paris is printed with a cafe menu.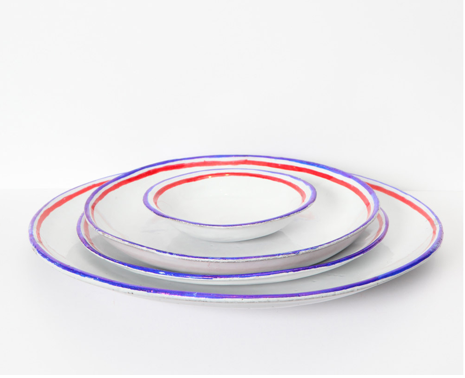 This dinnerware set, also from Commune de Paris is ringed with a stripe of bleu, blanc and rouge. (Not to be confused with the red white and blue)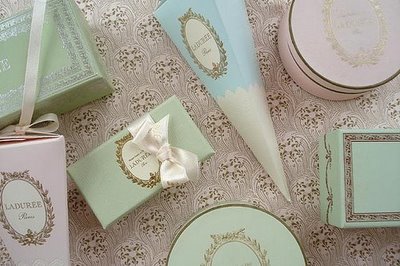 A set of packaging from venerable Paris pastry institution Ladurée — the inspiration for the invitation set below.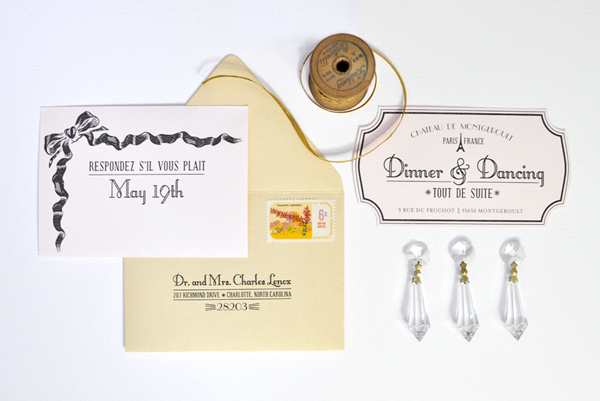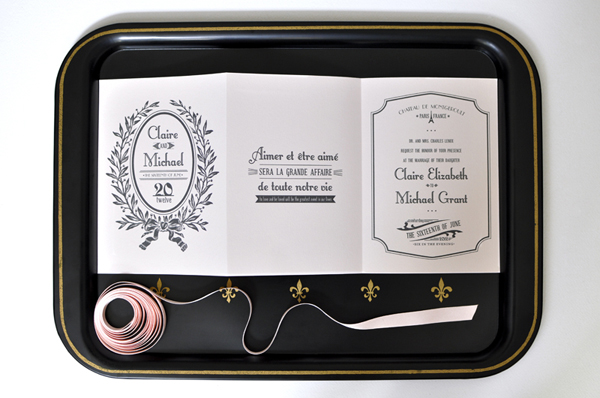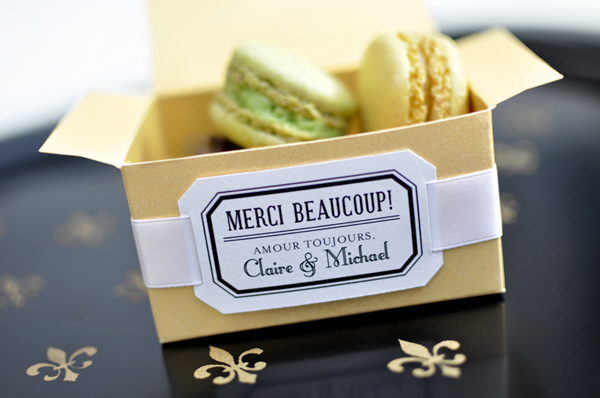 Ladurée is famous for its macaroons, which turn out to be the wedding favors.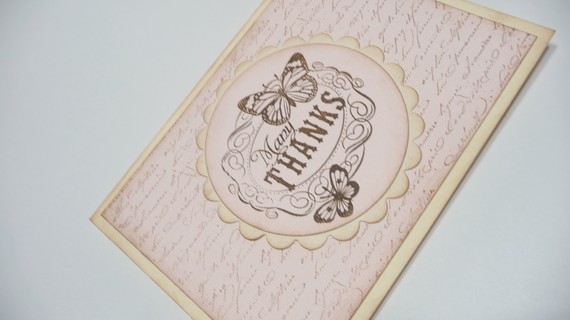 This antiqued card is from Etsy seller FrenchCountry.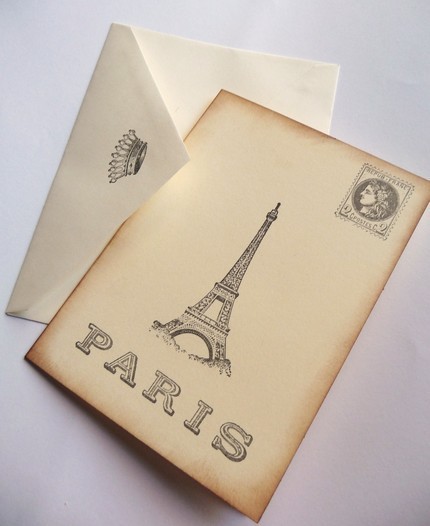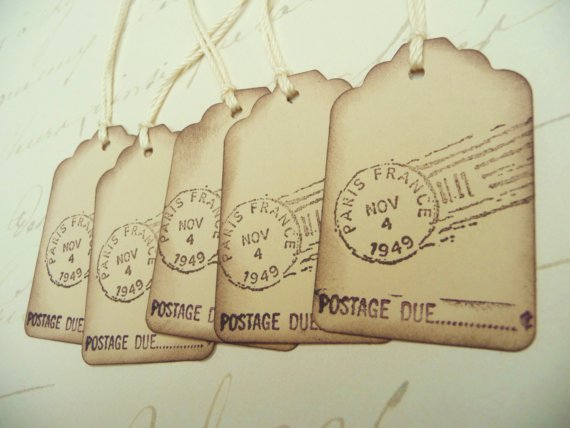 FrenchCountry does these great gift tags as well.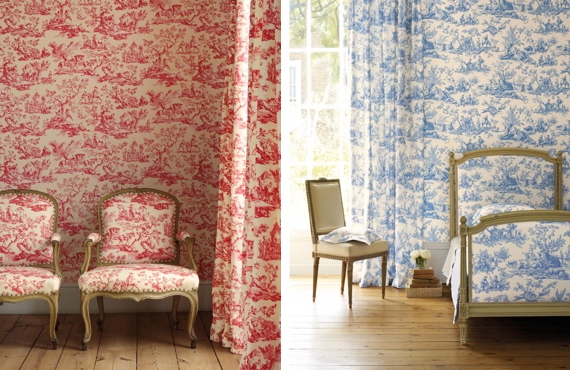 Toile de jouy (often referred to as just toile) is a fabric that consists of a cream background with a one-color print (most often in red, black or blue) of pastoral scenes of trees, flowers and couples strolling or picnicing in the shade. It has french origins so is often employed to impart a gallic flair.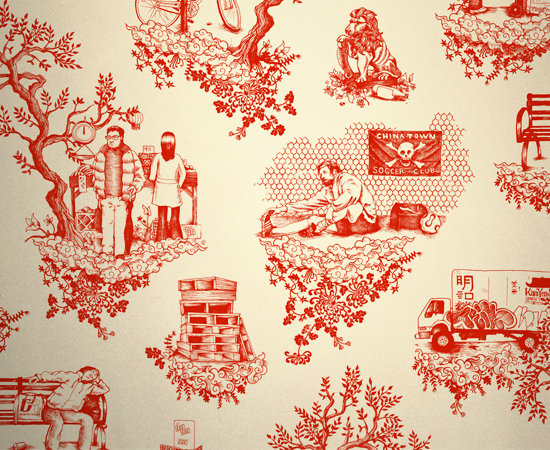 Artist Dan Funderburgh interpreted toile into a modern setting for Flavor Paper and turned it into Chinatown toile. You may remember it from my
wallpaper post
not long ago. It would probably take a person in a room covered with this wallpaper quite a while before they realized that the toile was not the usual ideal garden setting.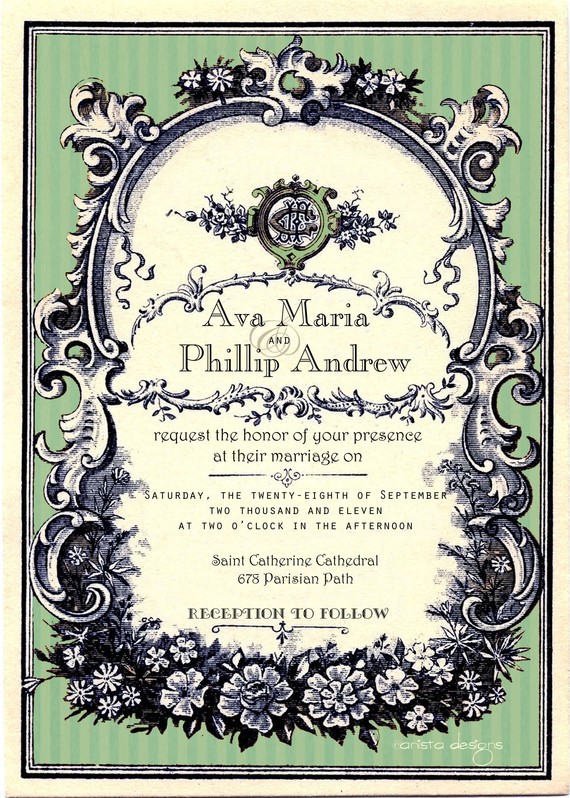 This Parisian perfume label inspired wedding invitation is from Etsy seller AnistaDesigns.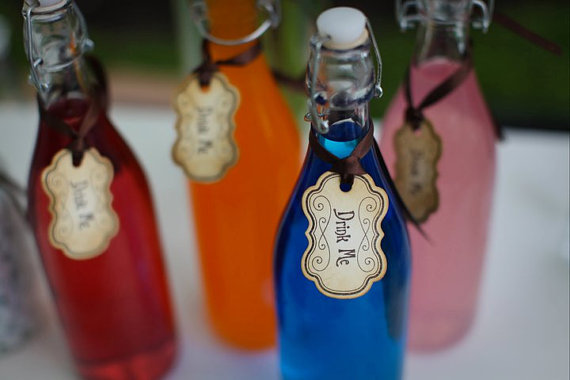 She also carries these fun art nouveau Alice in Wonderland "Drink me" tags. Ideal for flavored soda wedding favors.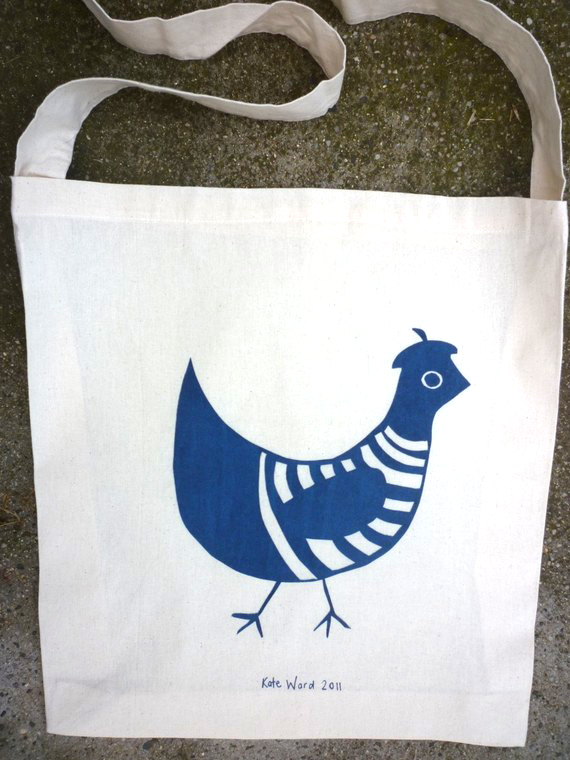 This adorable tote is from illustrator Kate Ward who sells on Etsy under KateWardArt.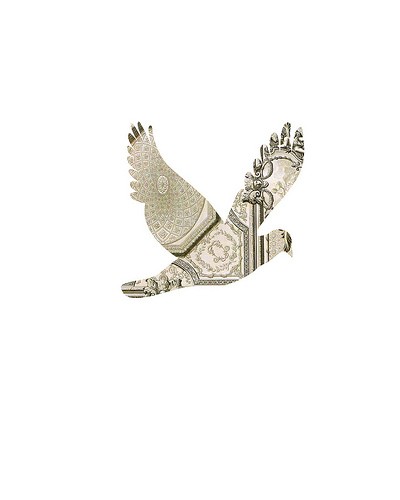 This print is from Etsy seller KarenHarveyCox and uses a vintage Parisian architectural rendering  as the color of the dove in flight.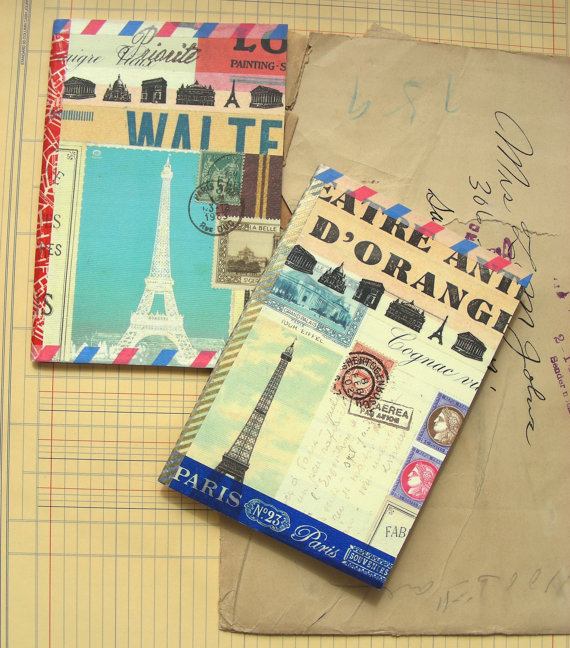 This set of two Parisian Signs notebooks comes from Etsy seller Curbside Treasure.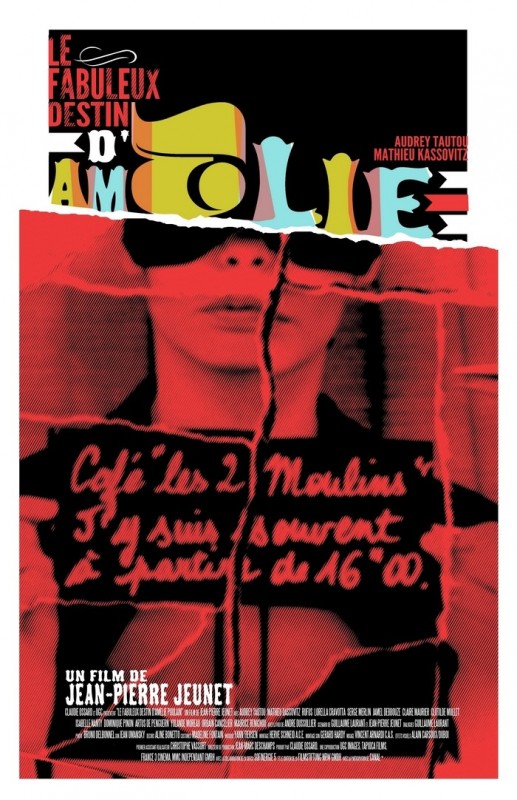 And this beauty right here is an original re-interpretation of the movie poster for the French film "Amelie." Etsy seller Adam Juresko (who's store is named TheArtofAdamJuresko) makes his own interpretations of various films in a bold quirky style.
Bastille Day is today. It celebrates the storming of the Bastille prison-fortress in Paris by the common people seeking to arm themselves against the power of the King's military. It also freed many political prisoners who, by their agitating for political change had angered the king. But enough with the history lesson. We're here to talk about French-inspired design and decor. Make yourself a cafe au lait, grab a couple of madeleines and peruse.