What's black and white and red all over? No, it's not an injured zebra or a newspaper, but this sticker: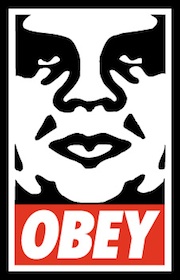 What is the deal with the Obey sticker? If you live near a city, you've probably seen this image staring back at you at some point. The stickers originated in the late 1980s, when Rhode Island School of Design student Shepard Fairey and his friends printed stickers and posters with Andre the Giant's face on it that said "Andre the Giant Has a Posse."
It sounds like Fairey and his friends came up with this sticker design on a whim, but it struck a chord with the growing skateboarding and hip-hop communities, and by the mid '90s their Andre the Giant images were ubiquitous in northeastern U.S. cities, and soon, all over the world. The sticker design evolved throughout the years to become the reduced, iconic black and white face you see above, with the word "OBEY," underneath. Obey is a refernce to a cult film called "They Live," starring professional-wrestler-turned-actor Roddy Piper. (I've seen this film, and it's kind of amazing.) The craziest part about the Obey stickers is they're not selling anything! In fact, Fairey has made all kinds of claims about how these stickers are a form of anti-consumerist propaganda. See Fairey's manifesto here. What you can learn from the Obey sticker When folks talk about viral marketing, they usually refer to social media and digital campaigns such as video, e-mails, microsites and widgets. But as the Obey example shows, custom stickers and decals are an excellent vehicle for the viral spread of a logo, design, URL, phrase or idea. A viral sticker campaign in the digital age The Obey stickers went viral before consumers used the Internet. Nowadays, you can even help your sticker campaign along with online marketing and social media support. For example, in 2007, Mozilla launched a sticker campaign to convert users to its open source web browser Firefox. Mozilla hosted a competition called Operation Firefox and offered prizes such as a new MacBook Pro or Nintendo Wii to incentivize participants to place huge three-and-a-half foot Firefox logo stickers in highly visible places. The goal was to build up its customer base and generate loyalty among its current users. I'll bet this sticker campaign helped Firefox meet its goals and gain some market share against behemoth Internet Explorer. You can see the results of the Operation Firefox sticker campaign here. What do you think about using stickers to generate a viral response? Leave your thoughts and suggestions in the comments below.