Weddings can cost thousands – if not 10s of thousands – of dollars. And for what? A lot of wasteful plastic and greenery that just gets tossed afterward. But with PsPrint, you can save money and the Earth by choosing recycled paper and buying in bulk. Plus, you'll be printing one-of-a-kind invitations, thank-you cards and even favors. All that equals for an unforgettable wedding that's also easy on the wallet. More money for the honeymoon, right?
1. Magnet "save the date." The moment you write the check for the deposit on your wedding venue, let your guests know the day of your wedding by sending out "save the dates." One popular and inexpensive way to make sure your invitees remember is to distribute wedding magnets with your names, the date and the location.
2. Postcard or standard invitation. Skip the fancy paper and ribbon embellishments and just go personal with your own customized invitations. You can choose between PsPrint's invitation cards and envelopes or go even more streamline with postcards for cheaper shipping.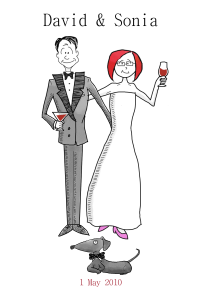 3. Postcard centerpiece. PsPrint's own Sonia and her now husband came up with a creative and personal centerpiece for their recent wedding: David drew a cartoon version of themselves and their dog in wedding attire, printed the art onto postcards and set them up on easels at each table. It was much more affordable than ordering a bunch of out-of-season flowers, and guests clamored to take the postcards home.
4. Mix CD wedding favor. The mixtape was once a sign of affection – you made them for your crush or your new love. The mix CD has replaced that plastic dinosaur, but the personalized symbolism still holds true. Learn all about making your own mix CD with a customized CD sleeve.
5. Thank-you card. Creating, writing and sending thank-you cards can be a beast of a project. But you can make them fun, at least, by making postcards or greeting cards with your honeymoon photos. It kills two birds with one stone: People want to see your photos, and you want to thank them for attending your wedding.