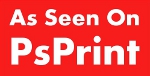 Technology is evolving. Physical things are getting smaller or even becoming obsolete. Take, for example, music. We used to gingerly handle vinyl records, and then we moved on to making mixtapes with handwritten playlists. Next came CDs with extensive liner notes and cover art. Now the trend is moving away from tactile formats and going digital. So how can musicians promote themselves without a physical product?
"We use your large square business cards as download cards that we sell at shows," Meerenai Shim of A/B Duo told me. "People who don't want CDs can buy a card with a code on it to download when they get home."
Scroll down to see A/B Duo's card among other customers' orders. For another example of a creative use of PsPrint products – this time, a sticker – check out last week's "Hot Off the Press," which included a photography studio's campaign to liven up "boring" take-home materials such as envelopes.