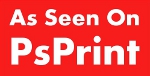 It didn't feel like fall on that first day in September, but now there's no doubt about it – autumn is here! At PsPrint headquarters here in the San Francisco Bay Area, mornings are foggy, and it's taking longer and longer for it to burn off. That's your cue to follow the Muni Diaries' example and order a weatherproof vinyl banner now – it withstands rain and other harsh weather, so prospective customers can spot you from far away.
Speaking of customers planning ahead, artist Amy Flynn has already ordered her annual 2014 calendars that feature her Fobots (Found Object Robots). Flynn is a great example of a talented customer who has found a balance with her art, career and marketing. Find out how she does it all in my interview with Flynn.
With Halloween just around the corner, I couldn't resist sliding in one more horrifically creepy marketing piece in "Hot Off the Press": the fearsome flyer for Corbett's House of Horror – eek! Don't be afraid to check out last week's "Hot Off the Press," which was devoted entirely to Halloween print jobs.